Glider Flying Handbook (Federal Aviation Administration): FAA-H-8083-13A (Paperback)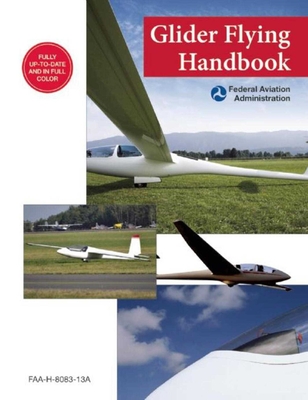 $27.49
Not currently available - email or call for details
Description
---
A valuable training aid for applicants preparing for glider category rating or current glider pilots who wish to improve their knowledge

This comprehensive handbook, created by the Federal Aviation Administration, supplies glider pilots with all the information they need for certification in the glider category. An all-in-one technical manual, the Glider Flying Handbook focuses solely on the precise science of glider flight. Inside are hundreds of detailed illustrations and diagrams on:

Components and systems
Flight instruments
Performance limitations
Launch and recovery procedures
Flight maneuvers
Traffic patterns
Soaring weather
Radio navigation
And much more

Complete and authoritative, the FAA's Glider Flying Handbook makes available to the reader everything from the history of glider flight to the skills needed to fly cross-country. This ultimate resource is the essential tool all student glider pilots need to get certified and all experienced flyers need to stay safe and informed.
About the Author
---
The Federal Aviation Administration is the national aviation authority of the United States. It regulates and oversees the aviation industry, pilot licensing, and airspace with the goal of providing "the safest, most efficient aerospace system in the world."