The Absolute Beginner's Guide to Living with Your Cat: Choosing the Right Cat, Cat Behaviors, Adapting Your Home for a Kitten, Cat Healthcare, and More (Paperback)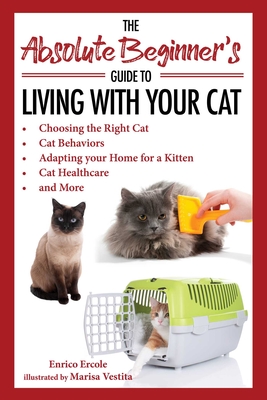 Description
---
How to welcome a new kitten, choose the right food, and more!
While cats understand their owners, in our eyes felines continue to be regarded as unpredictable and mysterious pets. So, if we have decided that our new companion will be a kitty, we must prepare ourselves and discover its world. Learn important skills and knowledge about cats that will better prepare you and make your cat happy, such as how to:
Welcome a new kitten into the house
Feed your cat the most appropriate food
Assess its behavior
Care for it if it gets sick
And other important skills to ensure it has a happy, healthy life
This is only a snippet of what you will find in this book. All of these skills have been elaborated by an animal care expert, which is accompanied with a good deal of useful advice that will help you understand our four-legged friend and make it grow healthy, while at the same time debunking certain myths about the cat world. In this book you will find everything you need to know in order to be the well-informed owner of a happy cat.  
About the Author
---
Enrico Ercole is a cat enthusiast who has been living with cats for his entire life. Since 2005, he has been writing for the most important Italian magazines for cat lovers. He also created a number of special issues dedicated to cat breeds. He is the curator of "Gattoni animati," an exhibition about cats in cartoons that took place in WOW Spazio Fumetto (Comics Museum, Milan).

Marisa Vestita studied painting at the Academy of Fine Arts of Lecce and at the same time she did internships in comics, stage design and stagecraft. Always curious about everything regarding the world of images, in 2002 she moved to Milan where she received her first commissions as an illustrator. She is very interested in applying computer technology to art and completed a course in digital graphic design at the IED (European Institute of Design). She shows in major exhibitions throughout Italy. She has collaborated with major Italian publishing houses and magazines, such classics as Phaedrus' Fables and The Brothers Grimm's Animal Fairy Tales.