Sami's Special Gift (Hardcover)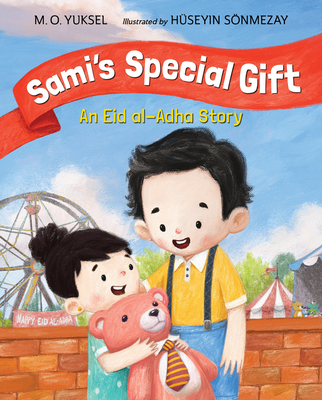 $17.99

Available for Pre-Order Now
Description
---
It's Eid al-Adha, and Sami wants to celebrate. But this year is different after his grandfather's passing. A touching picture book about kindness towards others.

Sami worries that the Eid al-Adha carnival won't be as fun without Dede (his grandfather), who died recently. Sami's grandmother sends him one of Dede's ties, and Sami vows to never take it off.

After going to the mosque for Eid prayer, Sami's family stop at the shelter where Baba and Anne volunteer. Can an unexpected encounter and a special gift help Sami change his mind about celebrating?

The gift of giving and putting yourself in someone else's shoes shines through in this engaging, poignant holiday story.
About the Author
---
M. O. Yuksel is the award-winning author of In My Mosque; One Wish: Fatima al-Fihri and the World's Oldest University; and Ramadan Kareem. She was born in Türkiye, raised in New York City, and now lives in New Jersey. She loves celebrating Eid al-Adha and going to the carnival with her family.

Hüseyin Sönmezay is a freelance illustrator. He was born in Bulgaria and moved to Türkiye when he was young. He attended vocational school with a concentration in graphic design. He has worked with local and international agencies and publishers and has illustrated more than forty picture books as well as various magazine illustrations. He currently lives in Izmir with his wife and two daughters, and this is his first book in the United States. www.huseyinsonmezay.com