Rick and Morty: Pocket Like You Stole It (Paperback)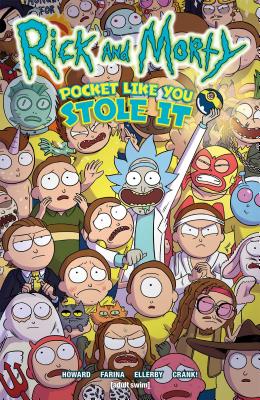 $19.99

Usually arrives at our store in 2-8 business days.
Description
---
Rick and Morty™: Pocket Like You Stole It is the fan-favorite comic book miniseries based on the popular Adult Swim™ television series and inspired by the Pocket Mortys mobile game.

Morty is on a quest to free himself (and all the other Mortys) from the clutches of Ricks, who collect Mortys and force them to battle one another for schmeckles and glory. Along the way, he'll discover the grisly history of Morty battling, the dastardly lengths that Ricks are willing to stoop to in order to win, and perhaps… the strength in himself that's needed to free the Mortys once and for all!
About the Author
---
Tini Howard is a writer and swamp witch from the Carolina Wilds. Her work includes Magdalena from Image/Top Cow Comics, Rick and Morty™: Pocket Like You Stole It from Oni Press, and Assassinistas from IDW/Black Crown! Her previous work includes Power Rangers: Pink (BOOM! Studios), The Skeptics (Black Mask Studios), and a contribution to the hit Secret Loves of Geek Girls, from Dark Horse Comics. She lives with her husband, Blake, and her son, Orlando, who is a cat.

Marc Ellerby is a comics illustrator living in Essex, UK. He has worked on such titles as Rick and Morty, Doctor Who, Regular Show and The Amazing World of Gumball. His own comics (which you should totally check out!) are Chloe Noonan: Monster Hunter and Ellerbisms. You can read some comics if you like at marcellerby.com.

Katy Farina is a comic artist and illustrator based in Los Angeles, CA. She's currently a background painter at Dreamworks TV. In the past, she's done work with Boom! Studios, Oni Press, and Z2 Publishing. In the rare instance she isn't working on comics, she moonlights as the Baba Yaga; enticing local youth into ethical dilemmas and scooting around in her chicken-legged hut.
Praise For…
---
"Pocket It Like You Stole It is an enjoyable addition to Oni's growing Rick and Morty library. This first issue captures the look, feel and general sense of humor of the show while also offering a different perspective on the mobile gaming source material."
— IGN

"One great thing about the Rick and Morty comics is that the laughs are never dumbed-down for readers. The jokes in Pocket Like You Stole It are just as funny as the ones in the television series, and at times more-so. The interactions also feel genuine and right out of the show. Howard does a fantastic job at this and beautifully conveys the characters for who they are."
— Geek.com

"So does a comic based on a TV show's mobile game actually work? Yes, yes it does."
— Ain't It Cool News

"Oni Press' Rick & Morty comics have done an excellent job matching the irreverent, I-can't-believe-they-went-there humor of the Adult Swim sensation, including the series' smart pop-culture parodies."
— Paste Magazine