One-Track Mind: Drawing the New York Subway (Hardcover)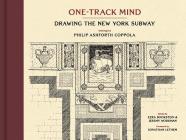 Description
---
For decades, Philip Ashforth Coppola has meticulously documented the New York City subway in a series of extraordinary drawings, detailing the terracotta mosaics, faience, and tile patterns that millions of riders pass by every day. Coppola's drawings are what Hyperallergic calls "the most encyclopedic history of the art and architecture of the New York City subway system." Along with Coppola's intricate ink drawings are anecdotes he assembled through painstaking research involving hundreds of hours poring through microfilms to discover the names behind the artisanship of what is rightly called New York's largest public art work—its legendary subway system.
About the Author
---
Jeremy Workman, a New York-based filmmaker, directed "One Track Mind," a documentary about Philip Ashforth Coppola, in 2005.

Ezra Bookstein, a filmmaker, producer, and sculptor living in Brooklyn, is author of The Smith Tapes: Lost Interviews with Rock Stars & Icons, 1969–1972.
Praise For…
---
"Artist [Philip Ashforth] Coppola (Silver Connections) documents the mosaics and architectural elements adorning New York City's subway stations in painstaking detail in this impressive homage to New York City's subway stations...This small art book is an outstanding appreciation of one of the city's most begrimed environments and a reminder to take some time and appreciate one's surroundings." - Publisher's Weekly

"While beauty and efficiency are probably not what most New Yorkers think of when they imagine the subway, one must admit that the stations aren't boring. And Coppola aims to prove it, one mosaic at a time." - Atlas Obscura

"One-Track Mind: Drawing the New York Subway is the perfect companion for preoccupied New Yorkers who overlook the faiences, terra-cotta mosaics and other gewgaws originally inspired by the City Beautiful movement, and nowadays a productive diversion for riders impatiently awaiting overdue trains."
- The New York Times

"For the last 40 years, Coppola has meticulously documented every subway station in New York, drawing every mosaic mural, sign, and detail...After decades of obsessively documenting the subway system, Coppola is finally getting his due. Princeton Architectural Press is publishing the first commercial version of his drawings for the general public in a volume called One-Track Mind: Drawing the New York Subway. The book pays homage to Coppola's labor of love and presents a selection of his sketches of the most iconic art in the New York City subway system." - FastCo.Design

"Coppola's work revels in New York's Gilded Age, when the subway was still considered groundbreaking and its artistry was something marveled at openly. In the book's introduction, [editors] Workman and Bookstein write that they hope it "can also remind New Yorker and visitor alike that there is beauty all around us. You just have to look."
-City Lab

"Coppola has single-handedly documented a monumental public subway system, a project that took hundreds of professionals and artisans to create. One-Track Mind demonstrates just how impressive one man's private life-time passion can be. It is a classy tribute to a dedicated and determined artist."
- New York Journal of Books