When Clowns Attack: A Survival Guide (Hardcover)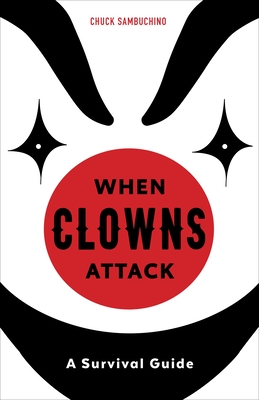 $14.99
Not currently available - email or call for details
Description
---
THEY'RE COMING FOR YOU
 
Coulrophobia--the fear of clowns--is very real and for good reason. You might think these red-nosed jokers are creepy, sure, but certainly not dangerous. You'd be wrong. Clowns never reveal their real names, and dress to obscure their identities. The rules of civilized society don't apply to them (what other stranger could offer candy to children and get away with it?), they have countless places to hide weapons on their person, and their appearance is downright unnatural. Clowns are the scariest people on earth, and the truth is, they are coming for your valuables, your children, and your sanity.
In this comprehensive guide to self-protection from clown creepery, petty crime, and violence, Chuck Sambuchino--founder of the anti-clown group Red Nose Alert--delves into the terrifying clown underworld to provide the knowledge you need to know to protect yourself from these seemingly innocuous gagmen, using his proven four-step system: ASSESS, ANALYZE, DEFEND, PROTECT.  Included within are instructions on how to defeat a clown in close combat, tips for spotting the plainclothes clown, and tutorials for fully clown-proofing your home against these painted and bewigged warriors. Most importantly, you'll learn what to do when clowns attack… because it's only a matter of time before they do.
About the Author
---
CHUCK SAMBUCHINO works for Writer's Digest and edits both the Guide to Literary Agents and the Children's Writer's & Illustrator's Market. His first book, How to Survive a Garden Gnome Attack, was optioned for film by Sony. Naturally, he hates clowns, and lives in a heavily fortified residence in the Midwest to avoid them. Besides that, he is a freelance editor, cover band guitarist, retro gamer, and owner of a flabby-yet-lovable dog. Connect with him at chucksambuchino.com or @chucksambuchino on Twitter.