Daredevil Dave (Hardcover)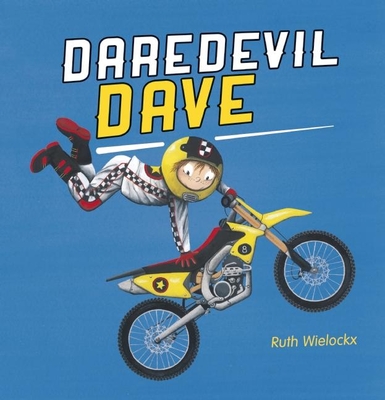 $16.95
Not currently available - email or call for details
Description
---
The art is great, I really love this illustrator's style. There are so many details on the vehicles that our character Dave uses. And the art is really colorful and fun. All in all, this is a hit with me, and I will be sure to keep a lookout for other Ruth Wielockx books I would also recommend this book to everyone - Twirling Book Princess
A funny and superfast book about adventure from bestselling author-illustrator Ruth Wielockx
Dave loves to skateboard. Every time he tries a new trick, he feels butterflies in his stomach. It's so exciting. But one day the butterflies are gone.... Maybe they'll come back if he does a somersault on his dirt bike? Or when he drives his racing care like a rocket? Dave tries desperately to find the butterflies in his stomach. And then one day, they come falling from the sky...
A funny, fast-paced book about the fun of being a daredevil. For thrill-seekers and chasers of excitement ages 4 and up.
About the Author
---
Ruth Wielockx never imagined that she would become a writer and illustrator of children's books. She studied Nutrition and Dietetics at the University of Leuven (Belgium) and Southampton (United Kingdom), and went on to get a degree in education. After years of teaching, Ruth realized that she really liked drawing and painting. She took this new passion and combined it with her love of children's books to begin a very successful career as an author and illustrator.