The Octonauts & the Great Ghost Reef (Hardcover)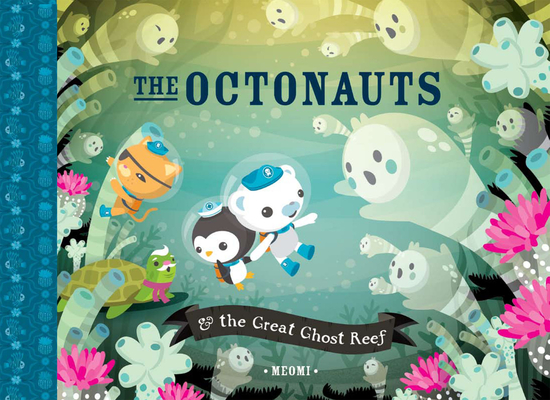 Description
---
A coral reef has turned white... can the Octonauts help it regain its color? Enjoy the original books that launched the animated TV show worldwide
The Octonauts are a crew of adorable animals who explore the oceans in search of adventure and fun From their undersea base called the Octopod, the Octonauts explore a vibrant world full of thrills, chills, and gills. The crew of eight talented critters, which include Captain Barnacles, Kwazii Kitten, Peso Penguin, and Professor Inkling, is always ready to embark on a new exciting voyage. The Octonauts travel to a large reef city where they discover this bustling destination has turned into a ghost town The once colorful coral has turned an eerie white and homes lay empty. So the crew visit different reef 'neighborhoods' from mangrove forests to seagrass meadows, searching for clues. Can they solve the mystery of the great ghost reef? Find out
Combining the instant appeal of Hello Kitty with the intrepid spirit of Jacques Cousteau, the Octonauts will entertain and delight children, while adults will appreciate the stylish design and subversive humor. Lushly layered and brightly colored illustrations create a teeming undersea universe that will dazzle readers' eyes, inspire their imaginations, and tickle their funny bones.
Called "charming and beautifully-designed" by comics scholar Scott McCloud, Meomi's winsome cast of characters have attracted an international audience, from kids, parents, and teachers to digital artists and fashion designers. What is their next mission? Stay tuned for the next Octonauts adventure to find out Immedium's original four books inspired the popular animated television series that is broadcast on Disney Junior and Netflix and in more than 100 countries around the globe. I've had the pleasure of reviewing all of the books in Meomi's wonderful 'Octonauts' series, which are published by Immedium. I have to say, they just keep getting better and better, and the newest,
The Octonauts & the Great Ghost Reef
is probably my favorite yet. Not only are the illustrations so cute I want to hang them on my walls, but the story is great, and it's educational... Every page is filled with the cutest illustrations, featuring Meomi's signature characters
- Tokyo Bunnie
About the Author
---
Meomi is Vicki Wong and Michael Murphy. Meomi enjoys sitting by the ocean, making up stories, drinking tea, and drawing strange creatures. Meomi's characters have appeared in clothing, toys, merchandise, and magazines worldwide. They have also created art and animation for clients such as CBC4Kids, Google, Monterey Bay Aquarium, Yo Gabba Gabba, and the Vancouver 2010 Olympics and Paralympics. Meomi likes sea slugs, yarn hats, and ukuleles. Visit them at www.meomi.com.
Praise For…
---
"The parallels that the adult reader can make between fact and fiction, environmental damage and care, are the same subtleties that teach children about relationships and responsibility among habitats. Meomi has created a fun group of loveable characters that take the young reader on an adventure through nature and a reef habitat...I would recommend this resource for any child learning about the environment including oceans and coral reefs." - Resource Links

The Octonauts are a group of eight unabashedly adorable (but somehow impeccably brave) animal pals who scour the high seas for adventure. Exploring giant bodies of water aren't without their risks of course finding incredible new underwater worlds or attempting to resolve some of the most intriguing mysteries of the watery deep often send the team into conflict with others. Themes such as pride, managing one's emotions, and dealing with loneliness routinely manifest in the book collection, currently numbered at four, published by San Francisco-based Immedium. Animation Insider