Zen and the Art of Motorcycle Maintenance: An Inquiry Into Values (CD-Audio)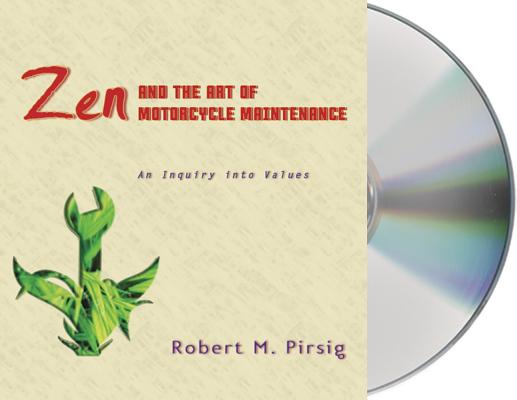 $57.99
Email or call for price.
Description
---
This lyrical, evocative, thought-provoking journal of a man's quest for truth -- and for himself -- has touched and changed an entire generation.

At its heart, the story is all too simple: a man and his son take a lengthy motorcycle trip through America. But this is not a simple trip at all, for around every corner, through mountain and desert, wind and rain, and searing heat and biting cold, their pilgrimage leads them to new vistas of self-discovery and renewal.

Zen and the Art of Motorcycle Maintenance is an elemental work that had helped to shape and define the past twenty-five years of American culture. This special audio edition presents this adventure in an exciting new way -- for the millions who have already taken this journey and want to travel these roads again, and for the many more who will discover for the first time the wonders and challenges of a journey that will change the way they think and feel about their lives.
About the Author
---
Robert M. Pirsig (1928-2017)
was born in Minneapolis. He studied chemistry, philosophy, and journalism at the University of Minnesota and attended Benares Hindu University in India, where he studied Oriental philosophy. His 1974 book
Zen and the Art of Motorcycle Maintenance: An Inquiry Into Values
was an immediate phenomenon which first published and continues to be bestseller.
Michael Kramer has narrated over 100 audiobooks for many bestselling authors. He read all of Robert Jordan's epic Wheel of Time fantasy-adventure series as well as Brandon Sanderson's The Stormlight Archive series. He received AudioFile magazine's Earphones Award for the Kent Family series by John Jakes and for Alan Fulsom's The Day After Tomorrow. Known for his "spot-on character portraits and accents, and his resonant, well-tempered voice" (AudioFile), his work includes recording books for the Library of Congress's Talking Books program for the blind and physically handicapped.

Kramer also works as an actor in the Washington, D.C. area, where he lives with his wife, Jennifer Mendenhall (a.k.a. Kate Reading), and their two children. He has appeared as Lord Rivers in Richard III at The Shakespeare Theatre, Howie/Merlin in The Kennedy Center's production of The Light of Excalibur, Sam Riggs and Frederick Savage in Woody Allen's Central Park West/Riverside Drive, and Dr. Qari Shah in Tony Kushner's Homebody/Kabul at Theatre J.
Praise For…
---
"Profoundly important ... intellectual entertainment of the highest order." —The New York Times

"It lodges in the mind as few recent novels have...The book is inspired, original...the narrative tact, the perfect economy of effect defy criticism. The analogies with Moby Dick are patent. Robert Pirsig invites the prodigious comparison. What more can one say?" —The New Yorker

"Brave wanderings, high adventures, extraordinary risks... A horn of plenty." —Los Angeles Times