Can You Keep Your Faith in College?: Students from 50 Campuses Tell You How - and Why (Paperback)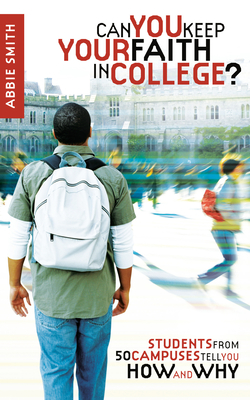 $16.50
Not currently available - email or call for details
Description
---
From dorm and Greek life to dating and academia, every piece of the college equation becomes a loaded opportunity for you—and your faith—to thrive. Can You Keep Your Faith in College? will help guide you through the best years of your life.

You're not alone in the struggle to maintain the faith you carried with you when you first set foot on campus. Packed with encouragement specifically for these trying years, Can You Keep Your Faith in College compiles experiences shared by students from more than fifty schools across the nation, and targets pertinent issues including, "The Transition," academics, dorm life, peer pressure, extracurricular activities, sports, Greek life, dating, studying abroad, racial relations, and "God's Surprise Encounters."

Don't let your faith whittle away; build it up! It's what defines you.
About the Author
---
Abbie Smith is a graduate of Emory University--where she accepted Christ in the spring of her freshman year--and Talbot Seminary. She is the author of The Slow Fade and Celibate Sex. Abbie is a member of North Point Community Church and resides in Georgia. Her passions include writing, discipleship, and spending time in God's great outdoors.
Praise For…
---
"Abbie Smith has done a great service for high school students, parents, and guidance counselors by letting us hear directly from students who walk the campus world by faith." -- Alec Hill, President, InterVarsity Christian Fellowship

"…a huge challenge for any believer in the university scene." -- Louie Giglio, Founder of Passion Conferences and bestselling author of The Air I Breathe

"Abbie Smith has utilized her experience and been open in sharing the truths in a manner that will help students to better face the opportunities, trials and experiences of everyday college pressure and life." --Dal Shealy, Retired President/CEO, Fellowship of Christian Athletes

"This is an excellent book…down to earth, focused and real." -- Jerry E. White, PhD, President Emeritus and U.S. Board of Directors Chairman, The Navigators

"Abbie Smith addresses a need that has been ignored for too long by the local church. Every high school senior and college freshman should read this book." -- Andy Stanley Senior Pastor, campuses of North Point Ministries