Smithsonian Dinosaurs and Other Amazing Creatures from Deep Time (Paperback)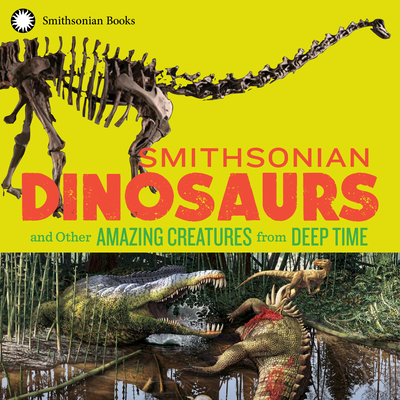 $9.95
Not currently available - email or call for details
Description
---
Young readers' guide to the remarkable dinosaurs and other fascinating creatures that roamed Earth millions of years ago

Smithsonian Dinosaurs and Other Amazing Creatures from Deep Time presents some of Earth's strangest and most unusual creatures from as early as 3.8 billion years ago. Beginning with the first evidence of life, it moves through periods of biodiversity and mass extinction and into a look at the first dinosaurs, mammals, pterosaurs, and other fauna and flora from the Archean to the Quarternary eras. It offers a rare look at some of the world's most fascinating creatures from sauropods, the largest creatures to ever walk the land, to the top carnivorous predator Tyrannosaurus rex, as well as the mastodons, saber-toothed cats, dire wolves, walrus-whales, and other beasts that seem outlandish to us now. Profiling these and many other fascinating creatures throughout prehistory and publishing to celebrate the opening of the National Museum of Natural History's new Deep Time Hall, the book is sure to delight young dinosaur enthusiasts.
About the Author
---
The NATIONAL MUSEUM OF NATURAL HISTORY is dedicated to inspiring curiosity, discovery, and learning about the natural world through its unparalleled research, collections, exhibitions, and education outreach programs. It is one of the Smithsonian's most highly visited museums, averaging 7 million visits annually. The museum's new Deep Time Hall, opening in 2019, will take visitors on a journey through the epic story of our planet and the life that has both shaped and been shaped by it.
Praise For…
---
"Dinosaur lovers are going to adore this book! Readers are expertly taken through the Smithsonian National Museum of Natural History's new Deep Time Hall. The story begins with the earliest signs of life on Earth more than 4.5 billion years ago. Edgar discusses in detail the creatures that evolved throughout each of the eras, from trilobites to Tyrannosaurus rex to woolly mammoths. Each spread contains an image of a mural from the Deep Time Hall with general information about the animals or time period on one side, and photos of fossils on the other. There is a lot of material in this book, and readers who enjoy dinosaurs are going to appreciate the fascinating facts and photographs. It may not work well for research as there is no table of contents or index. Young researchers will have to skim the book if they are looking for specific items. However, the top corner of each page does contain the time period, providing historical context for the pages. VERDICT Get this book for dinosaur lovers; it reads like a visit to the museum." - School Library Journal