The Seasons of the Soul: The Poetic Guidance and Spiritual Wisdom of Herman Hesse (Paperback)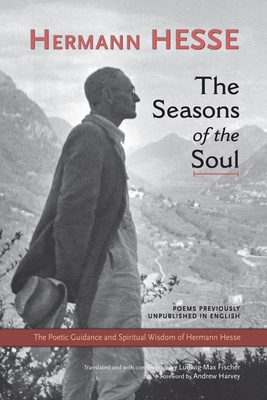 $19.75

Usually arrives at our store in 5-14 business days.
Description
---
Vowing at an early age "to be a poet or nothing at all," Hermann Hesse rebelled against formal education, focusing on a rigorous program of independent study that included literature, philosophy, art, and history. One result of these efforts was a series of novels that became counterculture bibles that remain widely influential today. Another was a body of evocative spiritual poetry. Published for the first time in English, these vivid, probing short works reflect deeply on the challenges of life and provide a spiritual solace that transcends specific denominational hymns, prayers, and rituals.

The Seasons of the Soul offers valuable guidance in poetic form for those longing for a more meaningful life, seeking a sense of homecoming in nature, in each stage of life, in a renewed relationship with the divine. Extensive quotations from his prose introduce each theme addressed in the book: love, imagination, nature, the divine, and the passage of time. A foreword by Andrew Harvey reintroduces us to a figure about whom some may have believed everything had already been said. Thoughtful commentary throughout from translator Ludwig Max Fischer helps readers understand the poems within the context of Hesse's life.
About the Author
---
Hermann Hesse's novels include Demian, Siddhartha, Steppenwolf, and The Glass Bead Game. The winner of the Nobel Prize in Literature, he died in 1962 at age 85. Ludwig Max Fischer, PhD, has been professor of German and comparative mythology for over forty years, most recently at Willamette University in Salem, Oregon.
Praise For…
---
"These vital, essential poems could not possibly be appearing at a more crucial time in the history of our Western culture.… Hermann Hesse's poetry is as eye-opening and as life-giving as his most famous novels. It offers the heartfelt, infinitely timely guidance of someone who lived at every step what he wrote and who leads his readers back to the simplicity of 'what we knew in the beginning.'"
—Peter Kingsley, author of Reality and A Story Waiting to Pierce You: Mongolia, Tibet and the Destiny of the Western World

"Ludwig Fischer proves wrong all who claim that 'poetry is what gets lost in translation.' His English versions of sixty-eight poems by Hermann Hesse ring as if they had been first conceived in English. In addition to that, Fischer's sensitive introductions to these poems make this book a rare treasure. Hesse … struggled with the dark side of life and grew strong. Therefore his poems—now at last in English—can help us find strength to come fully alive."
—Brother David Steindl-Rast, OSB, author of Deeper Than Words: Living the Apostles' Creed and Gratefulness, The Heart of Prayer: An Approach to Life in Fullness
 
"It is in his poems that you meet most intimately Hesse the man in all his emotional intensity, sometimes scalding self-knowledge, and fierce spiritual struggle, and so experience most completely the inner turmoil and revelations that led to his becoming
one of the philosopher-sages of our tumultuous transition."
—from the foreword by Andrew Harvey, author of The Hope: A Guide to Sacred Activism and Heart Yoga: The Sacred Marriage of Yoga and Mysticism

"This collection of poetry reveals his inner journey, one that is often filled with inner turmoil and despairing, and yet unwavering in [Hesse's] devotion toward an intimacy with self/spirit. Commentary from the scholar and translator Ludwig Max Fischer enriches our understanding of Hesse's life context from which the poems were born." — New Consciousness Review

"The Seasons of the Soul offers valuable guidance in poetic form for those longing for a more meaningful life, seeking a sense of homecoming in nature, in each stage of life, in a renewed relationship with the divine." — Vitality Magazine

"A thoughtful work of literature, The Seasons of the Soul is a strong pick for any world literary studies and poetry collection." — Midwest Book Review