Havana: History and Architecture of a Romantic City (Hardcover)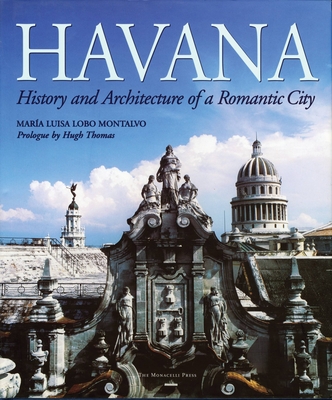 $85.00
Not currently available - email or call for details
Description
---
Havana, the legendary capital of Cuba, bears the traces of every stage of the island's rich history, from its indigenous traditions to the introduction of European culture in the late fifteenth century to the development of the unique amalgam of these influences that is unmistakably Cuban. In this exquisite volume, author María Luisa Lobo Montalvo presents the architecture and history of Havana—part of which has been declared a UNESCO World Heritage Site—in an accessible and engaging text and specially commissioned color photographs.

Among the structures featured are the famed great forts such as Castillo del Morro and Castillo de la Punta, the city's oldest extant structures; an array of houses, from all periods of Havana's history and in all styles, simultaneously offering architectural and cultural history; and the great churches, including the Church of La Merced and the great baroque Havana Cathedral, and institutional structures, such as the magnificent Palace of the Captains General, showing the public face of Havana at its most resplendent.

Discussions of each phase of the city's development are accompanied by detailed case studies of the period's most significant buildings, which include the architectural history and heritage of each structure as well as comprehensive new and archival documentation, including photographs, prints, paintings, and historical artifacts. Throughout her presentation of the buildings, Lobo Montalvo reveals the unique expression of design and decorative elements, customs and traditions that characterize the architecture of Havana.
About the Author
---
María Luisa Lobo Montalvo, daughter of Cuban sugar magnate Julio Lobo Olavarría, had a deep passion for her homeland which was reflected in all aspects of her life and continued throughout her years of exile. Among her many cultural activities were film production, writing, and lecturing. Lobo Montalvo died in 1998, at the age of sixty-three, shortly after completing the manuscript for Havana: History and Architecture of a Romantic City.