Six String Rocketeer: Holding Life Together When Your Parents Split Apart (Paperback)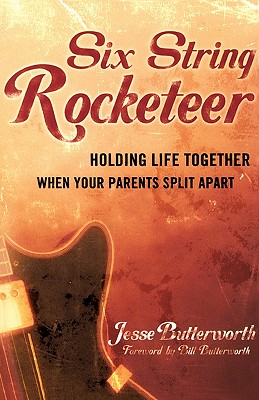 $10.99
Email or call for availability
Description
---
The painful, scary, but sometimes hilarious true story of how one guy
survived his parents' divorce. And lived to sing about it.

The teenage years are tough as it is, but throw in the fact that your parents are divorcing and it's like fuel on the fire.

It started with the poorly muffled fights in his parents' bedroom. They just seemed to get worse, and it seemed that the inevitable would happen. Finally, it did and the family meeting was called. Jesse Butterworth had a hunch his folks were going to announce they were separating–but the two youngest boys were certain they'd be told they were going to Disneyland.

No such luck.

What happens when your world falls apart? How do you handle it when the two people you trusted most totally disappoint you…and seemingly destroy your already shaky life?

That's what happened to Jesse Butterworth, and he tells his story with humor, honesty, and heart. He also shows how he figured out what to do with the emotions that come with divorce: anger, hurt, frustration, and loss. Picking up a beat up guitar, Jesse discovered that he could turn his misery into music and his pain into passion–becoming the Six String Rocketeer. In the process Jesse realized that the wounds that hurt you can become the wounds that heal you.
About the Author
---
Jesse Butterworth is an award-winning singer, producer, worship leader and songwriter. He is the co-founder of the band, Daily Planet, and also maintains a successful solo career. He loves superheroes, The Beatles, and his beat up guitar. But the real loves of his life are his wife, Marisa, and his son Liam. He resides in East Seattle where he is the worship leader at Illuminate. Check out his website at www.JesseButterworth.com.
Praise For…
---
Praise for Six String Rocketeer


"Heartbreaking one moment, laugh-out-loud funny the next, Jesse Butterworth has written a valuable book for anyone whose parents are going through a divorce. Without preaching, he invites readers into his own story of how he coped with his parents' breakup--and brings much-needed encouragement along the way."

— Lee Strobel, author, The Case for Christ and The Case for Faith

"Jesse's transparency in communicating his story is refreshing, authentic, and powerful. Such bold honesty is missing from many of today's publications on the subject, but something that was very present in the ministry of our Lord Jesus."
--Gregg Garner, president/CEO, Global Outreach Developments International

"Anguish and pain and hope are all here.  Jesse gives voice to the all-too-often silent children of divorce with biting wit and balanced wisdom."
–John Ortberg , teaching pastor, Menlo Park Presbyterian Church

"As a child of divorce, Jesse's song, "Six String Rocketeer," is on the soundtrack of my life. Now with his book, Jesse has crafted a poignant memoir, introducing readers to the important first step of acknowledging that parental divorce has lasting effects. His gracious approach and discerning insights invite readers to visit his past, and in the process, better understand their own."
–Jen Abbas, author of Generation Ex: Adult Children of Divorce and the Healing of Our Pain.

"There is no easy way to weave a story of survival during the two most devastating things that can happen to a person--your parents divorce and junior high. Butterworth pulls it off beautifully. The hope found here is tangible: hope for healing family relationships; hope for love that springs up through the cracks of the blacktop of pain; and hope for a song of victory that will finally be sung, rising higher than an eighth grade choir, louder than the deafening silence of separation, and more glorious than a Six String Rocketeer."
–Mike Howerton, author of Miles to Cross, co-author of The Relevant Church, Illuminate pastor

"Jesse Butterworth is a passionate, real, and genuinely kind person. I've toured with him in the USA and in Europe and have seen him connect with people. He's interested in their stories and uses his own to bring understanding and healing. I've always loved the song, 'Six String Rocketeer,' and after reading the book feel that I better understand his world and the world of those who have traveled a similar journey. Success for Jesse is using his life to touch others. I pray it touches millions."
–Paul Colman, singer and songwriter