No Girls Allowed (Young Heroes of History #5) (Paperback)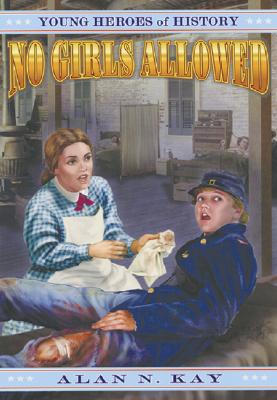 $7.95

Usually arrives at our store in 2-8 business days.
Description
---
The roles of women in the Civil War, sometimes apparent and sometimes hidden, are depicted at the Battle of Antietam along with the frustrations doctors and nurses faced in the war.
The Civil War was fought by men. Men started it and men ended it. At least that is what everyone thought.
With Civil War destroying the country, Mary Adams and Lynn Rhodes decide to help even if they aren't wanted. Mary joins an aid society and helps to heal the wounded, eventually meeting Clara Barton. Lynn joins her twin brother and disguises herself as a boy to fight alongside the men and boys of the Union army. Each of them faces different challenges as they struggle to be treated as equals. During the Battle of Antietam, these two very different girls, who choose two very different paths, find themselves forced to work together to not only save the country but to somehow take a stand for women in a war that was only for men.