Brothers and Sisters: An Special Part of Exceptional Families (Paperback)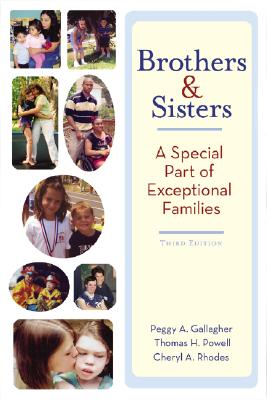 List Price: $26.95
Our Price: $24.95
(Save: $2.00 7%)
Description
---
A brother or sister is usually the first close friend and playmate a child has -- and when that child has a disability, the sibling relationship takes on new meaning and importance.
In the third edition of this classic resource, families and professionals will deepen their understanding of sibling relationships and learn how to support positive, lifelong bonds between brothers and sisters. Readers will get specific ideas, illuminating research, ready-to-use strategies, and personal anecdotes from siblings to help them
give siblings accurate, age-appropriate information about their brother or sister's disability
conduct effective sibling workshops, counseling sessions, and community programs
facilitate positive interactions between siblings at home and at school
encourage siblings to act as teachers for their brothers and sisters
help adult siblings deal with their concerns and emotions
Reflecting the dramatic advances in research in the 10 years since the second edition was published, this book gives readers the most up-to-date information on genetics and heredity, expanded discussion of multicultural issues and financial planning, and an extended focus on family members beyond parents, including grandparents and other extended family members who interact with siblings. Brimming with inspiring stories, facts and wisdom from the literature, and practical advice to share with parents, this book will help you and the families you work with understand and celebrate the special bond between siblings.