Birdie's Billions (Hardcover)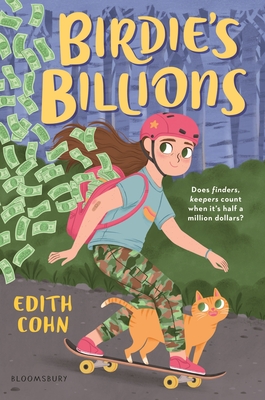 $16.99
Not currently available - email or call for details
Description
---
A savvy young girl finds half a million dollars and wonders if she can keep it in this charming middle grade mystery that asks big questions about right, wrong, and what you'd do for family.

For as long as eleven-year-old Birdie can remember, it's always been just her and her mom, which means there's not a lot of extra money to spend on things like new clothes and batons from the fancy gymnastics store. Still, they always find a way to make ends meet. Then Birdie makes one silly mistake that has a big consequence: Mom loses her job. Now things are more dire than ever, and Birdie knows it's up to her to fix it.

When Birdie discovers a huge stash of cash in an abandoned house, she just knows it must be the answer to their problems. But the people who left that money behind aren't willing to give it up so easily. Does "finders, keepers" count when it's half a million dollars?

In this heartfelt small-town story from beloved author Edith Cohn, Birdie learns how to balance what's right for her family-and herself-with what's the right thing to do.
About the Author
---
Edith Cohn was born and raised in North Carolina, where she grew up visiting the unique beaches of the Outer Banks. She currently lives in the coyote-filled hills of Los Angeles with her husband and her dog, Leia. All of these things provided inspiration for Spirit's Key. Spirit's Key is her first novel.
Praise For…
---
"Cohn's (Spirit's Key) entertaining tale is infused with timely reflections on class, money, and privilege. Birdie's frustration and pain is profound, and her feelings about wealth are increasingly complex. A deftly plotted story that thoughtfully renders a close parent-child bond while engaging readers through the mystery of the money." —Publishers Weekly, starred review

"Readers will feel invested . . . A touching exploration of class, friendship, and the mother-daughter bond." —Kirkus Reviews

"A hopeful story about friendship, prejudice, and overcoming adversity that will keep readers engaged." - School Library Journal