Two Words That Will Change Your Life Today (Hardcover)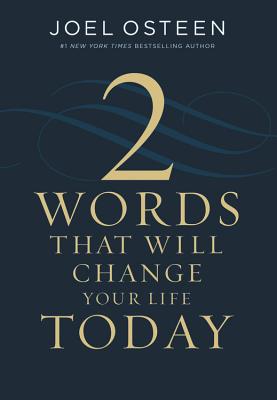 Description
---
Change your life through two simple words with this compact book based on The Power of I Am by #1 New York Times bestselling author and Lakewood Church pastor Joel Osteen.
In his bestselling book The Power of I Am, Joel Osteen taught that whatever follows the words "I am" will always come looking for you. Now, with this compact digest edition, perfect for on-the-go reading or as a gift, Joel emphasizes that if you stop criticizing yourself, you can instead discover your inner strengths, natural talents, and unique abilities and live the life of joy and power God intended for you. Rise to a new level and invite God's goodness by focusing on I AM!

About the Author
---
JOEL OSTEEN is the senior pastor of Lakewood Church in Houston, Texas. More than 10 million viewers watch his weekly-televised services each week in the United States, and millions more in 100 nations around the world. He can also be heard 24 hours a day on Joel Osteen Radio SiriusXM channel 128. He is the author of 11 national bestselling books and has been named by numerous publications as one of the most influential Christian leaders in the world. He resides in Houston with his wife, Victoria, and their children. You can visit his website at http://www.joelosteen.com.