The Covert City: The Cold War and the Making of Miami (Hardcover)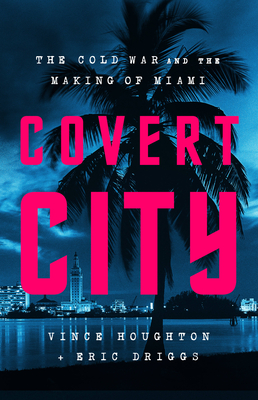 $29.00

Available for Pre-Order Now
Description
---
Secret operations, corruption, crime, and a city teeming with spies: why Miami was as crucial to winning the Cold War as Washington DC or Moscow.

The Cuban Missile Crisis was perhaps the most dramatic and dangerous period of the Cold War. What's less well known is that the city of Miami, mere miles away, was a pivotal, though less well known, part of Cold War history. With its population of Communist exiles from Cuba, its strategic value for military operations, and its lax business laws, Miami was an ideal environment for espionage.

The Covert City tells the history of how the entire city of Miami was constructed in the image of the US-Cuba rivalry. From the Bay of Pigs invasion to the death of Fidel Castro, the book shows how Miami is a hub for money and cocaine but also secrets and ideologies. Cuban exiles built criminal and political organizations in the city, leading Washington to set up a CIA station there, codenamed JMWAVE. It monitored gang activities, plotted secret operations against Castro, and became a base for surveilling Latin American neighbors. The money and infrastructure built for the CIA was integral to the development of Miami.

The Covert City is a sweeping and entertaining history, full of stunning experimental operations and colorful characters--a story of a place like no other.
About the Author
---
Dr. Vince Houghton is the Director of the National Cryptologic Museum. He is the former Historian and Curator of the International Spy Museum. He has a PhD in Diplomatic and Military History from the University of Maryland, and is a veteran of the United States Army. Dr. Houghton has made numerous media appearances, on a variety of media platforms. These include CNN, NBC News, Fox News, The Washington Post, The Wall Street Journal, The Atlantic, The Travel Channel, The History Channel, The American Heroes Channel, Vanity Fair, Maxim, ESPN.com, and many more.

Eric Driggs currently works for the United States Southern Command out of the Pentagon as a Congressional Liaison. He spent the previous 10 years as the Governmental & External Affairs Officer for Coast Guard Seventh District, which oversees Coast Guard operations in South Carolina, Georgia, the peninsula of Florida, Puerto Rico, the US Virgin Islands and the Caribbean Basin. He has also worked as a Cuba Analyst at the University of Miami's Institute for Cuban and Cuban-American Studies.