How to Expect the Unexpected: The Science of Making Predictions—and the Art of Knowing When Not To (Hardcover)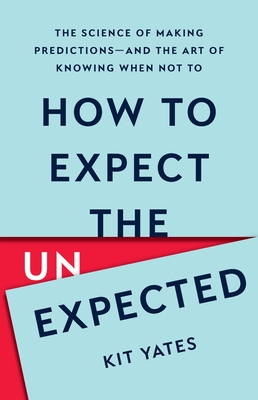 Description
---
A "vivid, wide-ranging, and delightful guide" (bestselling author Tim Harford) for understanding how and why predictions go wrong, with practical tips to give you a better chance of getting them right 

How can you be 100 percent sure you will win a bet? Why did so many Pompeians stay put while Mount Vesuvius was erupting? Are you more likely to work in a kitchen if your last name is Baker? Ever since the dawn of human civilization, we have been trying to make predictions about what the world has in store for us. For just as long, we have been getting it wrong. In How to Expect the Unexpected, mathematician Kit Yates uncovers the surprising science that undergirds our predictions—and how we can use it to our advantage.    
From religious oracles to weather forecasters, and from politicians to economists, we are subjected to poor predictions all the time. Synthesizing results from math, biology, psychology, sociology, medicine, economic theory, and physics, Yates provides tools for readers to understand uncertainty and to recognize the cognitive biases that make accurate predictions so hard to come by.   
This book will teach you how and why predictions go wrong, help you to spot phony forecasts, and give you a better chance of getting your own predictions correct. 
About the Author
---
Kit Yates is a senior lecturer in the department of mathematical sciences and codirector of the Centre for Mathematical Biology at the University of Bath. He is the author of The Math of Life and Death (2020), which was a Sunday Times Science Book of the Year. He lives in Oxford, England.  
Praise For…
---
"Mr. Yates is a patient and personable explainer."—Wall Street Journal

"In this smart study… The survey of the mind's biases intrigues, and the author excels at demonstrating their real-world effects. … It's a safe bet that readers will take to this."—Publishers Weekly

"Yates' tour of the predictions business covers much interesting ground, which he tills with an entertaining sense of humor."—Kirkus

"Yates is a pro at presenting maths in simple terms… these mathematical principles help make the book compelling to read."—Physics World

"How to Expect the Unexpected is fascinating, delightfully clear and vivid to read. Like many people, I like reading about maths without actually knowing how to do it, and part of the pleasure of reading this came from its many examples from everyday life. A splendid book!"—Sir Phillip Pullman, author of the His Dark Materials trilogy

"A vivid, wide-ranging, and delightful guide to the light and the dark side of prediction." —Tim Harford, bestselling author of The Data Detective

"Kit Yates presents math as it should be taught to everyone: accessible, fun, stimulating, and deeply relevant to our lives. Spend some time with this book and you're likely to make better judgements and decisions, to see through the charlatans and snake-oil salespeople—and perhaps even to fool yourself a little less." —Philip Ball, author of the award-winning Critical Mass

"Fascinating and fun. From the everyday to global challenges, Kit Yates explores how changing your mind - so often thought to be a weakness - is the best life skill we can all acquire. A brilliant book." —Alice Roberts, University of Birmingham

"Yates' writing is a beacon of clarity sorely needed in a complicated and confusing world. How do we overcome our biases, understand coincidences or tackle the unreliability of our intuition? With bountiful familiar examples, he effortlessly overturns so many of our deep-rooted wrong-headed notions gently and persuasively. I'll be quoting from this book."—Jim Al-Khalili, author of The World According to Physics

"Yates shows how math is the beating heart of so much of modern life." —Marcus du Sautoy, author of Thinking Better