Atomic Anna (Hardcover)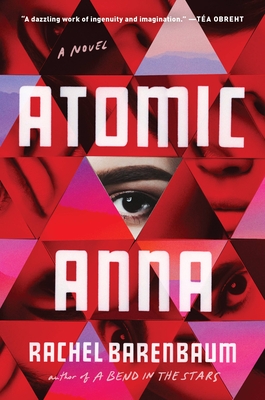 $28.00
Not currently available - email or call for details
Description
---
Named a Most Anticipated Book by Bookish
 
Named a Best Book of the Month by Buzzfeed

"The novel is masterfully plotted."—New York Times Book Review

"Atomic Anna is a dazzling work of ingenuity and imagination."―Téa Obreht,National Book Award finalist and New York Times bestselling author of Inland

From the author of A Bend in the Stars, an epic adventure as three generations of women work together and travel through time to prevent the Chernobyl disaster and right the wrongs of their past.
 
Three brilliant women.
Two life-changing mistakes.
One chance to reset the future.

In 1986, nuclear scientist Anna Berkova is asleep in her bed in the Soviet Union when Chernobyl's reactor melts down. The energy surge accidentally sends her through time. When she wakes up, she's in 1992 and discovers Molly, her estranged daughter, shot in the chest. Should Anna travel in time to save her daughter or stop Chernobyl?

Anna goes to '60s Philadelphia, where Molly is coming of age as an adopted refusenik in a family full of secrets. Molly finds solace in comic books, drawing her own series, Atomic Anna. But when she meets volatile Viktor, their romance sets her life on a dangerous course. Anna then seeks out Molly's daughter, Raisa, in the '80s. Raisa is a lonely teen and math prodigy, who finds new issues of Atomic Anna in unexpected places. Each comic challenges her to solve equations leading to two impossible conclusions: Time travel is real and so is the strange old woman claiming to be her grandmother. 

These three remarkable women must work together across time to prevent the greatest nuclear disaster of the twentieth century, but simply because you can change the past, does it mean you should? 
About the Author
---
Rachel Barenbaum is the author of the critically-acclaimed novels  Atomic Anna and A Bend in the Stars. She is a prolific writer and reviewer. Her work has appeared in the LA Review of Books, The Tel Aviv Review of Books, and more. She is a scholar in residence at the Hadassah-Brandeis Institute at Brandeis and is the founder/ host of the podcast Debut Spotlight. In a former life she was a hedge fund manager and spin instructor. She has degrees from Harvard in Business, and Literature and Philosophy. She is an elected member of Town Meeting in Brookline, MA.
Praise For…
---
"One of the many wonderful things about Atomic Anna, a book about Chernobyl, yes, but also about comic books, the power of math, finding one's truth, and love, both biological and found, is the core group of women who ground it… The novel is masterfully plotted."
 —New York Times Book Review

"A story of three generations of women and the secret history that binds them, Rachel Barenbaum's ambitious second novel Atomic Anna moves seamlessly through time and space, from the Russian Revolution to late-20th-century Philadelphia. It's propulsive and intimate and surprisingly relevant to these past two years, when time has so often felt sharp and amorphous all at once."
 —Los Angeles Review of Books

"With Atomic Anna, Barenbaum has created a saga that manages to be both sweeping and riveting… Even without the dazzling time travel, these characters and storylines would be compelling. With it, they are transfixing."
 —WBUR Arts & Culture

"Just as the romance of epic literature is timeless, Atomic Anna's demonstration of what may be learned about the human heart is also outside of time, and certainly beyond the ordinary."
 —BookPage

"This novel is about the impact that small decisions can have on the lives of many, how one decision, conversation, or action can have a ripple effect and impact generations… Traveling across time, readers experience the connectedness of the women in Anna's life and how their knowledge, love, and collaboration are their superpowers."
 —Jewish Book Council

"Barenbaum burnishes her reputation as an up-and-coming talent with this audacious time travel story... The threads build toward a deeply satisfying denouement, and the author uses the sci-fi plot device to explore parent-child relationships and questions about the morality of changing the past. Barenbaum dares greatly, and succeeds."
 —Publishers Weekly (Starred Review)

"In Barenbaum's skillful hands, a complex concept and structure work beautifully. The book is an incredible achievement with a heartfelt human theme… As ambitious as a Greek tragedy and just as lyrical and unflinching."
 —Kirkus (Starred Review)

"Atomic Anna is an epic adventure, telling us about three generations of Jewish women working together and traveling through time to prevent the Chernobyl disaster and right the wrongs of their past. Their brilliance and determination raises the question: Just because you can change the past, does it mean you should?"
 —Good Day Sacramento

"A tour de force on an epic scale."
 —Lilith

"Atomic Anna is a dazzling work of ingenuity and imagination."
 —Téa Obreht, National Book Award finalist and New York Times bestselling author of Inland

"A novel of love, suspense, and nuclear technology. Breathtaking."
 —Gary Shteyngart, New York Times bestselling author of Our Country Friends

"Deftly plotted and thrillingly paced, Atomic Anna combines unforgettable characters, historical intrigue, and time travel in a remarkable tour de force that shines a new light on an old story. If you're looking to be transported, this book is for you."
 —Anna Solomon, author of The Book of V.

"Epic, ambitious, and gripping, Atomic Anna is a wildly inventive novel that teems with life and grapples with the big questions of science, art, love, and humanity. Rachel Barenbaum is a propulsive writer who takes readers on a journey through time via the lives of three generations of extraordinary women who come together to try to change the course of history and undo the mistakes of their past. Atomic Anna is a trip through time well worth taking. I couldn't put it down."
 —Lara Prescott, New York Times bestselling author of The Secrets We Kept

"The only thing I love more than nuclear physics, time travel, comic books and stories with a decided Russia accent, is Barenbaum's latest splendid novel, a multi-generational tale with strong, passionate female leads. Brilliantly written, it truly makes you believe in the mysteries of both the universe, time, and the human heart."
 —Caroline Leavitt, New York Times bestselling author of Pictures of You and With or Without You

"Rachel Barenbaum is a fiercely talented writer whose latest novel took my breath away. Steeped in the history of the nuclear age, Atomic Anna is a thrilling multigenerational epic that leaps through time and across continents to detail the troubled lives and rich inner worlds of an unforgettable cast of characters. An electrifying novel that holds you in its grip from start to finish, this is one you don't want to miss."
 —Lauren Wilkinson, author of American Spy

"Readers of science fiction, historical fiction and multigenerational family novels will find themselves captivated by Anna, Molly and Raisa's story."
 —BookBrowse

"Barenbaum masterfully switches back and forth among the women's lives, detailing their struggles with intergenerational trauma and personal aspirations as well as how they grapple with their Jewish identity."
 —Hadassah Magazine

"One of the best novels of 2022 so far."
 —Jewish Boston