Somebody Give This Heart a Pen (Paperback)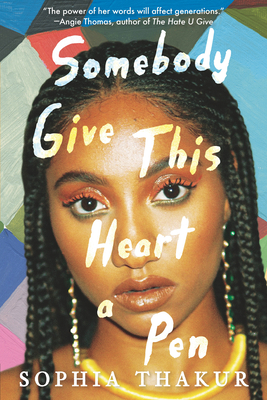 $7.99

Usually arrives at our store in 5-14 business days.
Description
---
In a powerful debut, rising star Sophia Thakur brings her spoken word performance to the page.

Be with yourself for a moment.
Be yourself for a moment.
Airplane mode everything but yourself for a moment.

From acclaimed performance poet Sophia Thakur comes a stirring collection of coming-of-age poems exploring issues of identity, difference, perseverance, relationships, fear, loss, and joy. From youth to school to family life to falling in love and falling back out again—the poems draw on the author's experience as a young mixed-race woman trying to make sense of a lonely and complicated world. With a strong narrative voice and emotional empathy, this is poetry that will resonate with all young people, whatever their background and whatever their dreams.
About the Author
---
Sophia Thakur has been performing since the age of sixteen and has a wide reach across social media. She has presented two TED Talks and has worked closely with young people, sharing her poems and the creative process. This is her first published collection. She lives in Middlesex, England.
Praise For…
---
In this debut collection first published in the UK, performance poet Thakur explores identity, family, loss, relationships, vulnerability, empowerment, and self-discovery. At once intimate and universal, aching and affirming, the poems examine the cycles of breaking, healing, and growth that shape people through young adulthood and beyond...An affecting poetry collection for all teens that deserves a spot in school and public libraries.
—School Library Journal (starred review)

The torrent of Thakur's spoken word poetry storms the page to flow, feed, and flood in this thunderous debut with broad reader appeal. Thakur, who is of Indian, Sri Lankan, and Gambian descent, offers a love letter to Black and brown readers that offers, at once, the intimacy of the self exposed and the universal power of story shared. A deluge of verse to dance in.
—Kirkus Reviews

This poetry collection, broken into five sections, mirrors generally the process of personal growth: grow, wait, break, and grow again. Woven into the collection are affirmations of Black girlhood, coping with breakups, reflecting on past hurt, and growing from old mistakes...It is this exploration that will resonate with teen readers who search for stanzas to narrate the intensity of their lives, and offer reprieve when it feels there is none.
—Booklist

In her debut poetry collection, Thakur explores love, family, and the challenges and joys of being a Black woman in contemporary Britain...The collection is most powerful in its odes to Black girlhood: "Little black girl, my heart thrives in the stride of your halo." Offering particular nourishment for young Black women, this raw, heartfelt collection will resonate with all readers seeking a lyrical meditation on the journey to heal from heartache.
—Publishers Weekly Online