Auditioning for Commercials: What To Expect (Paperback)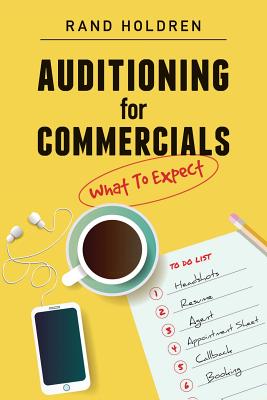 $22.99
Not currently available - email or call for details
Description
---
Finally a book on how to audition for commercials from the actor's point of view. Rand Holdren has booked more than sixty commercials in a fifteen-year span in Los Angeles. He freely discusses both his successes and failures while sharing tips to help others navigate commercial auditions.
Auditioning for Commercials: What to Expect helps budding actors improve their skills and be more productive during their auditions. It's a complete guide covering steps such as how to assemble headshots, navigate the actor-agent relationship, handle auditions, and prepare once you book a job. Rand includes checklists in each chapter to summarize how people can prepare for each process.
He keeps his advice casual, making his book an easy read while giving readers the most complete account of auditioning he can provide. You won't find a full-scale tutorial on how to act during an audition, but you will learn the inner workings of the commercial audition process so that you get your best shot at booking a job.
"Rand gives an insightful look at the highly competitive commercial audition landscape from a successful insider's perspective. This book is an excellent how-to manual for anyone trying to break into commercials. Rand has been performing consistently for my company, Ross Lacy Casting, for over 12 years."
-Ross Lacy, Casting Director, Owner/President of Ross Lacy Casting
"The knowledge Rand shares is a highly useful tool for actors who are starting out in commercials. Knowing what to expect, and how to handle the room can make the difference from being an actor to a working actor."
-Steve Wi, Commercial Production, Owner/Executive Producer-Raucous Content
"Wish this book had been around when I was cutting my teeth in this business. You might've seen me in a commercial or two and not pedaling khakis at the GAP."
-
David Anders, Actor, Alias, Heroes, iZombie
About the Author
---
Rand Holdren is a veteran of the commercial acting business, having booked more than sixty commercials while auditioning in Los Angeles over fifteen years. Rand has appeared in commercials for dozens of brand-name products across multiple platforms. He has also acted in films and television shows and has been a member of SAG-AFTRA since 2001. Rand also served as Creative Director of 3 Bees Entertainment for six years writing and directing concepts for global companies. He lives in Los Angeles with his wife and son.