The Biscuit: The History of a Very British Indulgence (Paperback)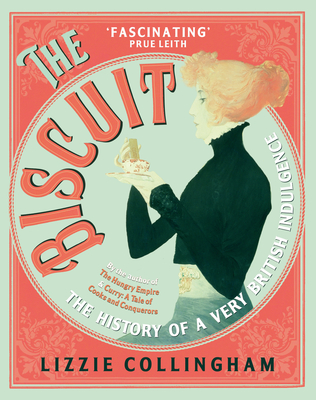 $17.95

Usually arrives at our store in 5-14 business days.
Description
---
Biscuits are as British as fish and chips or the Sunday roast and they have been for centuries. From sustenance for explorers to comfort food for a nation, here is the surprising, wide-ranging, social history of Britain through the biscuit.

Bourbons. Custard Creams. Rich Tea. Jammie Dodgers. Chocolate Digestives. Shortbread. Ginger snaps. Which is your favorite?

British people eat more biscuits than any other nation; they are as embedded in the culture as fish and chips or the Sunday roast. But for Briitsh people biscuits are not only tasty treats to go with a cup of tea, the sustenance they afford is often emotional, evoking nostalgic memories of childhood.

Lizzie Collingham begins in Roman times when biscuits – literally, 'twice-baked' bread – became the staple of the poor; she takes us to the Middle East, where the addition of sugar to the dough created the art of confectionery. Yet it was in Britain that bakers experimented to create today's huge variety of biscuits. And when the Industrial Revolution led to their mass production, biscuits became integral to the British diet.

We follow the humble biscuit's transformation from durable staple for sailors, explorers and colonists to sweet luxury for the middling classes to comfort food for an entire nation. Like an assorted tin of biscuits, this charming and beautifully illustrated book has something to offer for everyone, combining recipes for hardtack and macaroons, Shrewsbury biscuits and Garibaldis, with entertaining and eye-opening vignettes of social history.
About the Author
---
Lizzie Collingham taught History at Warwick University and was a Research Fellow at Jesus College, Cambridge before becoming an independent historian. Her books include Curry: A Tale of Cooks and Conquerors and The Taste of War: World War II and the Battle for Food. She is currently an Associate Fellow of Warwick University and the Royal Literary Fund Fellow at Newnham College, Cambridge. She recently completed a project researching the history of the kitchens of the Indian President's palace and regularly lectures on a gastronomic tour of Kerala. She works in a garden shed near Cambridge.
Praise For…
---
"Collingham has bagged a senior place among writers telling history through a single item of food. The book ranks up there with Salt and Cod by Mark Kurlansky. Her previous such book was Curry: A Tale of Cooks and Conquerors, which I thought would be hard to match, but Collingham has pulled it off again." ―Prue Leith, The Spectator

"A fascinating book... Collingham is a wonderful researcher, combining academic rigour with an eye for the captivating details that make the world more interesting." ―BBC History
  "Joyously delicious. . . . Original and supremely captivating. . . .  A stellar observer of the day-to-day and the mundane, a social historian of extraordinary talent." ―New York Times Book Review on The Taste of Empire
"Show[s] in a tour de force of synthesis that food was one of the driving forces of empire. . . . Collingham's great achievement is to take [the empire's] food history out of the realm of cozy nostalgia and show it for the potent economic and political force it was." ―Wall Street Journal on The Taste of Empire

"Fascinating. . .  Whether you're a foodie or a history buff, this should be a satisfying read; sometimes the best way to history's heart is through its stomach."―NPR on The Taste of Empire
  "The stuff of lively cocktail party conversation among the geekiest of food lovers." ―Washington Post  on The Taste of Empire
  "Collingham writes about the British Empire from a unique perspective." ―Booklist, starred review, The Taste of Empire