Life Sucks: How to Deal with the Way Life Is, Was, and Always Will Be Unfair (Hardcover)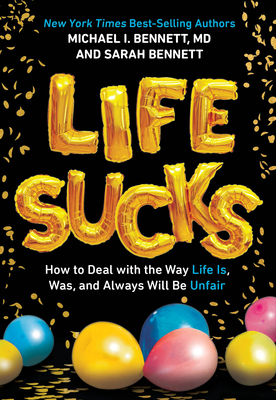 $19.79
Not currently available - email or call for details
Description
---
From New York Times best-selling authors Michael I. Bennett, MD and Sarah Bennett--a book for teens that shows readers that we all deal with crap in our lives and how to laugh at some of the things we can't control.

Being a teenager can suck. Your friends can become enemies, and your enemies can become friends. Your family can drive you crazy. School and teachers can be a drag. Your body is constantly changing. And everyone seems to tell you to "just be you." But just who is that?

With their open and honest approach, father-daughter team Michael I. Bennett and Sarah Bennett's book is sure to appeal to teenagers and show them they aren't alone in dealing with fake friends, with parents who think they're "hip," and even how high school isn't everyone's glory days. Young readers--and their parents--are sure to find this no-nonsense, real-life advice helpful, and it will help them realize that it's okay to talk to their parents and other advisors around them about big issues that might be uncomfortable to discuss.
About the Author
---
Dr. Michael I. Bennett, educated at both Harvard College and Harvard Medical School, is a board-certified psychiatrist, Canadian, and Red Sox fan. Aside from writing two books of keenly-phrased advice with his daughter, Sarah Bennett, he also has a private practice in adult and child psychiatry that he's been running for over thirty years. He lives with his wife and two dogs in Boston and New Hampshire.

Sarah Bennett has written for the internet, television, a monthly sketch comedy show at the Upright Citizens Brigade Theatre in New York, and the arts section of her high school paper. She's also written two NYT best-selling books of advice with her father. Mostly, Sarah walks her dog, watches Red Sox games, and enjoys being too old to care that much about most things.

Bridget Gibson is a freelance illustrator, concept artist, comic artist based on the Jersey Shore (yes, that Jersey Shore).