Philip Roth: The Biography (Paperback)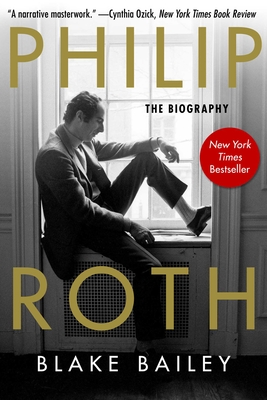 $29.99

Usually arrives at our store in 5-14 business days.
Description
---
"I don't want you to rehabilitate me," Philip Roth said to his only authorized biographer, Blake Bailey. "Just make me interesting." Granted complete independence and access, Bailey spent almost ten years poring over Roth's personal archive, interviewing his friends, lovers, and colleagues, and listening to Roth's own breathtakingly candid confessions. Cynthia Ozick, in her front-page rave for the New York Times Book Review, described Bailey's monumental biography as "a narrative masterwork … As in a novel, what is seen at first to be casual chance is revealed at last to be a steady and powerfully demanding drive. … under Bailey's strong light what remains on the page is one writer's life as it was lived, and―almost―as it was felt." 
 
Though Roth is generally considered an autobiographical novelist—his alter-egos include not only the Roth-like writer Nathan Zuckerman, but also a recurring character named Philip Roth—relatively little is known about the actual life on which so vast an oeuvre was supposedly based. Bailey reveals a man who, by design, led a highly compartmentalized life: a tireless champion of dissident writers behind the Iron Curtain on the one hand, Roth was also the Mickey Sabbath-like roué who pursued scandalous love affairs and aspired "[t]o affront and affront and affront till there was no one on earth unaffronted"—the man who was pilloried by his second wife, the actress Claire Bloom, in her 1996 memoir, Leaving a Doll's House. 
 
Towering above it all was Roth's achievement: thirty-one books that give us "the truest picture we have of the way we live now," as the poet Mark Strand put it in his remarks for Roth's Gold Medal at the 2001 American Academy of Arts and Letters ceremonial. Tracing Roth's path from realism to farce to metafiction to the tragic masterpieces of the American Trilogy, Bailey explores Roth's engagement with nearly every aspect of postwar American culture.
 
About the Author
---
Blake Bailey is the author of acclaimed biographies of John Cheever, Richard Yates, and Charles Jackson, and his biography of Philip Roth will be published in 2021. He is the recipient of a Guggenheim Fellowship and an Award in Literature from the American Academy of Arts and Letters, a winner of the National Book Critics Circle Award and Francis Parkman Prize from the Society of American Historians, and a finalist for the Pulitzer and James Tait Black Prizes. His most recent book, The Splendid Things We Planned, was a finalist for the National Book Critics Circle Award in Autobiography. He lives in Virginia with his wife and daughter.
 
Praise For…
---
"Blake Bailey's comprehensive life of Philip Roth―to tell it outright―is a narrative masterwork … As in a novel, what is seen at first to be casual chance is revealed at last to be a steady and powerfully demanding drive. … under Bailey's strong light what remains on the page is one writer's life as it was lived, and―almost―as it was felt."
― Cynthia Ozick, New York Times Book Review (cover)

"Bailey is industrious, rigorous, and uncowed. … Although Roth would not have enjoyed some of the tumult that will now attend its publication, he might have admired his biographer's ... refusal to fall under his subject's sway. The man who emerges is a literary genius, constantly getting it wrong, loving others, then hurting them, wrestling with himself and with language, devoted to an almost unfathomable degree to the art of fiction."
― David Remnick, The New Yorker

"[Roth] got to be remembered [in Bailey's biography] as a man: hilarious, mercurial, genuinely kind but fickle and meanspirited too. A man, rather than an inert legacy."
― Mark Oppenheimer, New York Times Magazine

"Superlative … Bailey's account is definitive and genuinely gripping to boot. … He leads us lucidly through a dense palimpsest of overlapping drafts, fictional identities, literary feuds and women."
― Claire Lowdon, Times of London

"Meticulous, masterfully organized and heroically fair-minded … [T]here are sparkling scenes portraying Truman Capote's Black and White Ball, lunching with the Kennedys on Martha's Vineyard, even a flirtation with Jackie Onassis, the only woman Roth was too awed by to pursue."
― Sam Sacks, Wall Street Journal

"Beautifully written … compulsively readable … It is hard to imagine a book that will come up with a more definitive series of answers than this one."
― Tim Adams, Observer

"A wonderful book that seems certain to become the definitive biography of Roth's fascinating, sometimes troubling, life―Roth was a brilliant writer, and Bailey does him justice in this beautifully written and highly readable volume."
― Michael Schaub, Boston Globe

"Monumental and engrossing … Bailey brings new information and a fresh perspective … Is Bailey's compassionate and comprehensive book the biography? No other biographer will have known Roth so well, had such unlimited access to his archives, had a chance to ask him rude questions, even to watch him as he lay dying."
― Elaine Showalter, Times Literary Supplement (cover)

"Bailey is a very good writer and a very good literary biographer. A double- or triple-natured subject is not beyond him. … What a story. … Bailey certainly lets the repellent in, and along with it comes the man in his wholeness."
― James Parker, The Atlantic

"Unassailable as to fact … clear-eyed … quickly moving … Philip Roth seems as brightly peopled as a Victorian novel. … What [Bailey] does superbly … is chart Roth's sexual and emotional life, and map its effects on his work."
― Michael Gorra, New York Review of Books

"Roth would approve of this biography, too, not because it's partial but because Bailey's industriousness is on a par with his own … it's a miracle that he has published so lucid a book just three years after Roth's death―and one so packed with good anecdotes and jokes."
― Blake Morrison, The Guardian

"[A] totemic and compulsively readable biography."
― Christian Lorentzen, Bookforum

"'Magisterial' and 'definitive' … don't do justice to Blake Bailey's years-in-the-making opus. … Bailey meticulously conjures the career of one of America's literary titans, the devils and angels that shaped his work."
― O, The Oprah Magazine

"Philip Roth, for all his flaws, for all that I know his legacy will continue to be judged in judgmental times and found wanting, deserves this riveting, serious and deeply intelligent biography."
― David Baddiel, The Spectator

"Fascinating … Bailey's utterly engrossing biography shows Roth led a life just as strange and intense as his fictionalized alter egos."
― Tomiwa Owolade, Evening Standard

"Blake Bailey's book is definitive. It's also often funny, sometimes appalling, and always fascinating―like its subject."
― Jacqueline Cutler, New York Daily News

"A stunning feat, this is as dynamic and gripping as any of Roth's own fictions."
― Publishers Weekly (starred review)

"Excellent…evenhanded…Roth gave Bailey access to his archive and sat down for interviews, and it shows, especially in the many intimate details about Roth's personal life…An outstanding biography."
― Kirkus (starred review)

"Fully authorized, comprehensive, and engrossing … a consummate and unforgettable biography of a controversial, virtuoso, and indelible American writer."
― Booklist (starred review)

"Philip Roth, to go with his legendary talent, was a lucky man. That streak continues with Blake Bailey's charming, wise, and witty biography, which achieves a balance and comprehensiveness that shouldn't have been possible so soon after Roth's death."
― Jonathan Lethem

Additional Praise for Blake Bailey's Philip Roth:
 
"A colorful, confident and uncompromising biographical triumph that, at more than 800 pages, also manages to be conversationally readable. … no one writing about Roth will be able to sidestep this foundational biography."
― Alexander C. Kafka, Washington Post
 
"Magnificent … Roth's biography is a book Bailey seemed destined to write."
―Bryan Appleyard, Times of London
 
"Blake Bailey has done an absolutely superb job with the masses of material he had to work with, and with a very controlling subject. He manages to strike a sane and equable tone, and while he demonstrates a certain sympathy for Roth, he is nobody's fool. The result is a detailed portrait of a man who is self-obsessed but generous and often kind; full of bile, yet, to many people, the funniest man they ever met; a devoted friend to many, an equally fervent foe to many others."
― Brooke Allen, The New Criterion
 
"Bailey has written the finest biography of his stellar career, striking a balance between Roth's life and work, and he has meticulously traced the connections between the two with shrewdness, skill and sympathy. Yes, the preeminent novelist of frailty, carnality and mortality, the serial adulterer who picked up women in elevators, the writer who quarreled with critics, Philip Roth, lives."
― David Biespiel, Houston Chronicle
 
"Rich­ly tex­tured … rev­e­la­to­ry … Philip Roth con­jures the intel­lec­tu­al­ly over­pow­er­ing, sex­u­al­ly omniv­o­rous, wound­ed, hilar­i­ous, mon­u­men­tal lit­er­ary fig­ure as ful­ly as possible."
― Donald Weber, Jewish Book Council
 
"A magnificent book―sedulous, scrupulous, fair-minded, reassuringly elegant in tone―everything Roth … could have hoped for."
― Christopher Bray, The Critic
 
"Magisterial."
― Eric Cortellessa, Washington Monthly
 
"Well-researched and engrossing."
― Mark Athitakis, USA Today
 
"Voluminously researched, good-humored, and honestly written. Readers will discover new information about Roth's personal life and probably even learn about written works of his that they didn't know existed."
― Dan Kubis, Pittsburgh Post-Gazette
 
"Blake Bailey's biography of Philip Roth is that rare sort of book, meticulous without sacrificing dramatic energy, endlessly entertaining without ever surrendering critical integrity, candid without forfeiting compassion. … He presents Roth's life and books with grace and unflinching honesty, connecting the man to the work in a way that makes each more compelling as the story proceeds. … This book is not the tip of the iceberg but the iceberg itself."
― Michael Pearson, Virginian-Pilot
 
"Compelling and sympathetic … wonderfully engaging … Bailey's many extended interviews with Roth and others supplement his research which the biographer weaves expertly so that we see, as Roth proclaims, how Art is Life … a riveting read of a great American master."
― Paul Perry, Irish Independent