How to Meet a Mermaid (Magical Creatures and Crafts) (Hardcover)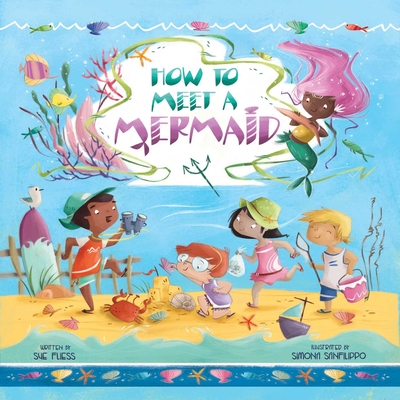 $18.69
Not currently available - email or call for details
Other Books in Series
This is book number 5 in the Magical Creatures and Crafts series.
Description
---
Legend has it the only way to meet a mermaid is to know where to look and to give her a beautiful handmade gift that shows her you care. If you're lucky, she may take you on an ocean adventure!

Mermaids are rarely seen, and even more rarely met. But, if you gather some natural craft supplies—shells, coral, driftwood, and sea glass—and make her a gift, you might just befriend one!

Will you spot a mermaid in the waves just off shore? If you do, will you be ready? By being observant, resourceful, and friendly, you can make a beautiful crown from natural beach materials that will show your new mermaid friend you truly care. Perhaps she'll take you on an incredible adventure through the ocean's depths, past ancient shipwrecks, and to her shell castle! You just might experience what it's like to be a mermaid yourself!

Sue Fliess's poetic read-aloud text and Simona Sanfilippo's vibrant, whimsical illustrations will provide joy for young readers eager to meet their own mermaids! Also included are guides for teachers and parents about how to engage children in building mermaid crowns and how to interest them in the natural world, the history of mermaids, and the many cultures that have believed in them.
About the Author
---
SUE FLIESS is the author of dozens of children's books, including How to Trap a Leprechaun, How to Track an Easter Bunny, How to Trick a Christmas Elf (all Sky Pony Press titles), Mary Had a Little Lab, Ninja Camp, and more. She's also written for Walt Disney. Sue loves swimming in the ocean, and while she's spotted dolphins, she hopes to one day meet a mermaid. Sue lives with her family in Northern Virginia. Visit her at www.suefliess.com.
 
SIMONA SANFILIPPO is a children's book illustrator who lives and works near Turin, the magical town in the north of Italy. Lots of green hills and mountains have surrounded her since childhood and both of them have a big place in her heart, a northern one that loves oceans and snowy lands too. When she lets her pencils have a break, she loves reading about Celtic legends, creating cute handmade creatures, and having a walk into the woods discovering trees and Mother Earth's gifts.