Oneida Utopia: A Community Searching for Human Happiness and Prosperity (Hardcover)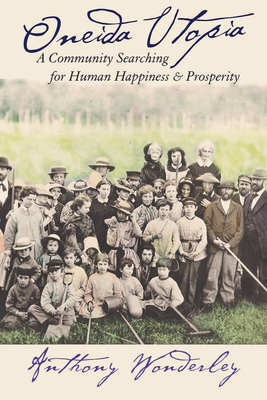 $36.95

Usually arrives at our store in 5-14 business days.
Description
---
Oneida Utopia is a fresh and holistic treatment of a long-standing social experiment born of revival fervor and communitarian enthusiasm. The Oneida Community of upstate New York was dedicated to living as one family and to the sharing of all property, work, and love. Anthony Wonderley is a sensitive guide to the things and settings of Oneida life from its basis in John H. Noyes's complicated theology, through experiments in free love and gender equality, to the moment when the commune transformed itself into an industrial enterprise based on the production of silverware. Rather than drawing a sharp boundary between spiritual concerns and worldly matters, Wonderley argues that commune and company together comprise a century-long narrative of economic success, innovative thinking, and abiding concern for the welfare of others.
Oneida Utopia seamlessly combines the evidence of social life and intellectual endeavor with the testimony of built environment and material culture. Wonderley shares with readers his intimate knowledge of evidence from the Oneida Community: maps and photographs, quilts and furniture, domestic objects and industrial products, and the biggest artifact of all, their communal home. Wonderley also takes a novel approach to the thought of the commune's founder, examining individually and in context Noyes's reactions to interests and passions of the day, including revivalism, millennialism, utopianism, and spiritualism.
About the Author
---
Anthony Wonderley is the former Curator of Collections and Interpretation at the Oneida Community Mansion House. He is the author of Oneida Iroquois Folklore, Myth, and History and At the Font of the Marvelous and editor of The Days of My Youth and John Humphrey Noyes on Sexual Relations in the Oneida Community.