Black Trillium (Saga of the Trillium #1) (Paperback)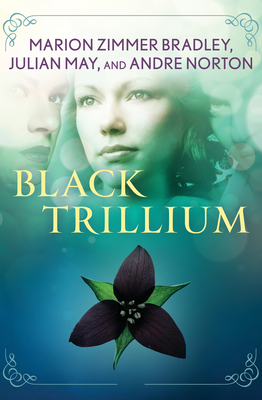 $23.99
Usually arrives at our store in 2-8 business days.
Description
---
Three fan-favorite authors present "a classic fantasy quest involving mysterious wizards, rites of passage, and the salvation of a kingdom" (Library Journal).

Peace has long reigned in Ruwenda thanks to the magical protection of the Archimage Binah. The realm's devoted guardian is aging, however, and her magic is weakening. When the kingdom's triplet princesses were still infants, Binah gave each of them the mystical power of the Black Trillium. But the unthinkable occurs too soon, and Ruwenda is overrun by the ravaging armies of neighboring Labornok before the sisters, Haramis, Kadiya, and Anigel, have time to learn how to use their great gift.

Forced to flee, the young princesses must follow their separate destinies through a dangerous and unfamiliar world of Oddlings and enemies--for only the combined power of three magical talismans can help them defeat the malevolent sorcerer who has brought chaos and death to their once-idyllic home. But it will take new kinds of strength and wisdom to confront the great evil that has descended on the World of the Three Moons.

Marion Zimmer Bradley, Julian May, and Andre Norton, three of the most honored names in fantasy fiction, have joined forces to create an extraordinary world and culture in the first book of the remarkable Saga of the Trillium, a breathtaking tale of duty, peril, love, and magic.
About the Author
---
Marion Zimmer Bradley is best known as the author of the Darkover series and the bestselling Arthurian novel The Mists of Avalon. In addition to her books, Bradley edited many magazines, amateur and professional, including Marion Zimmer Bradley's Fantasy Magazine, which she founded in 1988, and an annual anthology, Marion Zimmer Bradley's Sword and Sorceress. Julian May was the author or coauthor of eighteen adult science fiction and fantasy novels and over two hundred juvenile nonfiction books. She was an avid keyboard player, gardener, jewelry designer, and fly angler. She passed away in 2017 at the age of 86. For well over a half century, Andre Norton was one of the most popular science fiction and fantasy authors in the world. With series such as Time Traders, Solar Queen, Forerunner, Beast Master, Crosstime, and Janus, as well as many standalone novels, her tales of adventure have drawn countless readers to science fiction. Her fantasy novels, including the bestselling Witch World series, her Magic series, and many other unrelated novels, have been popular with readers for decades. Lauded as a Grand Master by the Science Fiction Writers of America, she is the recipient of a Life Achievement Award from the World Fantasy Convention. An Ohio native, Norton lived for many years in Winter Park, Florida, and died in March 2005 at her home in Murfreesboro, Tennessee.