Horrible White People: Gender, Genre, and Television's Precarious Whiteness (Hardcover)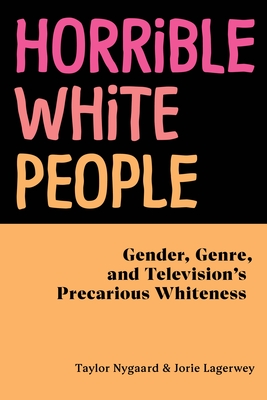 Not currently available
Usually arrives at our store in 2-8 business days.
Description
---
Examines the bleak television comedies that illustrate the obsession of the white left with its own anxiety and suffering
At the same time that right-wing political figures like Donald Trump were elected and reactionary socio-economic policies like Brexit were voted into law, representations of bleakly comic white fragility spread across television screens. American and British programming that featured the abjection of young, middle-class, liberal white people-such as
Broad City
,
Casual
,
You're the Worst
,
Catastrophe
,
Fleabag
, and
Transparent
-proliferated to wide popular acclaim in the 2010s. Taylor Nygaard and Jorie Lagerwey track how these shows of the white left, obsessed with its own anxiety and suffering, are complicit in the rise and maintenance of the far right-particularly in the mobilization, representation, and sustenance of structural white supremacy on television. Nygaard and Lagerwey examine a cycle of dark television comedies, the focus of which are "horrible white people," by putting them in conversation with similar upmarket comedies from creators and casts of color like
Insecure
,
Atlanta
,
Dear White People
, and
Master of None
. Through their analysis, they demonstrate the ways these non-white-centric shows negotiate prestige TV's dominant aesthetics of whiteness and push back against the centering of white suffering in a time of cultural crisis. Through the lens of media analysis and feminist cultural studies, Nygaard and Lagerwey's book opens up new ways of looking at contemporary television consumption-and the political, cultural, and social repercussions of these "horrible white people" shows, both on- and off-screen.
About the Author
---
Taylor Nygaard (Author) Taylor Nygaard is a Faculty Associate in the Department of English's Film and Media Studies division at Arizona State University. She writes about identity, television, digital culture and media industries. Her work has appeared in Feminist Media Studies, TV and New Media, FLOW, and elsewhere. Jorie Lagerwey (Author) Jorie Lagerwey is Associate Professor in Television Studies in University College Dublin. She writes about race, gender, genre, celebrity and television. She is the author of Postfeminist Celebrity and Motherhood: Brand Mom (2016). Her work has appeared in Cinema Journal, TV and New Media, Celebrity Studies, FLOW, and elsewhere.