Time to Breathe: Navigating Life and Work for Energy, Success and Happiness (Paperback)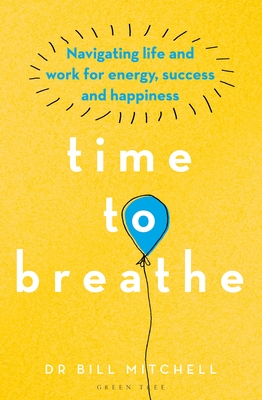 Description
---
Ever feel like you're so busy and stressed that you forget to breathe? This book is for all of us struggling on with the multiple demands of jobs that never seem to end and the complexities of home lives. All of which can lead to exhaustion, unhappiness, burn-out or depression--this book offers a road map of practical, effective solutions.

This book is for people who are struggling with the multiple demands of jobs that never seem to end and the complexities of their home lives. Struggling on without thinking through how to make it work can lead to exhaustion, unhappiness, burn-out or depression.

No Time To Breathe presents practical ideas that come out of Dr Bill Mitchell's clinical experience in getting people back to a zone of better energy, balance, fulfillment and more balanced ways of thinking about themselves.

Through case studies of the everyday lives of people in many walks of professional life, we see how many of us can accidentally set off down a pathway that takes us away from our previously healthy robust selves--often without recognizing it. When we can no longer stabilize our emotions and protect our energy we become overwhelmed, and rather than confident become self-doubting, guilty and anxious.

This book describes three key building blocks of a balancing system to keep us within the energized healthy zone, in spite of the pressures we are under at work and at home. These are: self-awareness, an understanding of the physiology of energy, and a willingness to lead a more decisions-based life for better balance and effective working. Together, these form an overarching empowered mindset, freeing us from the mental habits that lead us to de-prioritize time for ourselves. And leading to far happier outcomes than feeling trapped and helpless, or walking away from career paths into which we have invested years of our lives.
About the Author
---
Dr Bill Mitchell is a clinical psychologist with over 30 years' experience in clinical practice. Bill runs a practice specializing in work related difficulties, including anxiety states, depression, acute stress and burn-out. His clinical work is about rebuilding resilience in people who have been de-railed by complex life events. His clients include professional services firms and companies in the advertising, finance, utilities sectors. He has run courses on Resilience, Managing Yourself and Managing Change in the UK, Europe, North America, Asia, Australia and New Zealand. For 20 years he taught on the Kings College MSc programme on Mental Health, he has run teaching sessions for the London Business School and Judge Business School. He is a consultant to BUPA on Mental Health. He has recently recorded a series of podcasts under BUPA's brand on mental wellbeing, good conversations to have at work and raising mentally healthy kids.
Praise For…
---
"Calm the chaos ... a practical guide to balancing a high-responsibility lifestyle." —Psychologies magazine

"Offers tools on how to navigate working life in a smoother and less stressful fashion." —The Scotsman