How to Get Your Child Started in Show Business (Paperback)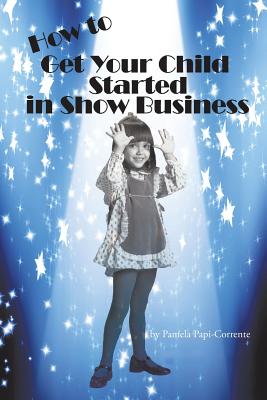 $8.95
Not currently available - email or call for details
Description
---
A complete step by step guide on How to get Started in Show Business
This book is a handy step by step guide for all those parents who are trying to get their children started in a show biz career, but didn't know where to begin
. From newborn or 90+ there is always work in T.V. Film Commercials or theatre, if you know how to find it. Agent's managers and casting directors are looking for fresh new faces and talent all the time to fill these jobs. Kids especially, are in constant demand for these projects.
You will learn about agents, managers, casting directors, child working permits, headshots, resumes and Coogan accounts.
This book will give you all the inside information and easy steps to follow for a successful career. You will be prepared with the knowledge and tools to find the auditions, and how book the job.
There is nothing more exciting than the fast-paced, star studded world of show business. Make your dreams come true, have the experience of a lifetime, and enjoy the memories forever. If you read the book and follow through, I have no doubt that;
I'll see you in the Movies
About the Author
---
see introduction Introduction It all started for me, as a "stage Mom" for my four children who worked in commercials, television, film and print. I soon became a SAG actress, booking several commercials and movies, most recently featured in "Music and Lyrics." Since I had already developed a working relationship with most of the agents and casting directors, it was an easy transition when I decided to become a children's manager in 1993. Through my company "Pam's People" I became successful in booking thousands of kids into commercials, film and theater. I also did casting for Independent film productions and have since been involved in almost every aspect of show business In 2000 I wrote directed and appeared in a nationally aired Public Service Announcement which also won at the Garden State Film Festival. This P.S.A. gained attention and recognition from the industry and lead to my many appearances on T.V. I filmed a special segment on "Crossing Over with John Edwards", was featured on a Fox news documentary with Dave Schratwieser, and Channel 12 news with Walt Kane. "Unsolved Mysteries" recreated the event in my life that lead to the making of the P.S.A. which evolved to many other T.V. shows and documentaries. Behind the camera, or in front of the camera, I love every aspect of the business, and people who know my profession are constantly asking me "how do I get my child started in show business?" It is not a simple answer, it is a process. So I have decided to write this book to share all my inside information and experience. The book explains the details in a step by step guide for parents to understand how to get their child started in show business. Once you have read my book and follow through, your child will be ready to walk into any audition, professionally prepared with headshots and resumes, confident and ready to book the job. Maybe, you, like millions of other people, have always though about getting your child started but didn't know how to begin. Well now you can! There is nothing more exciting than the fast-paced, star studded, world of show business, so let's get started. Use AS introduction and website