Zero to 60: A Teen's Guide to Manage Frustration, Anger, and Everyday Irritations (Hardcover)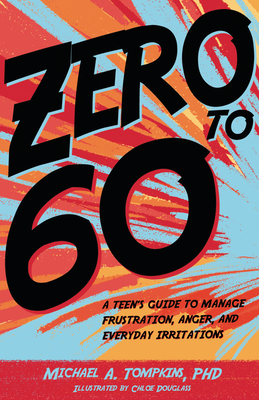 $16.99

Usually arrives at our store in 2-8 business days.
Description
---
High performance cars can go from zero to sixty in just a few seconds. Anger can feel a lot like that for teens. One minute they are calm, but the next, something sets them on a course to speed out of control. Getting to anger's edge too fast can get teens in trouble. Expert author Michael Tompkins offers tips and tricks to help stall anger and leave it by the side of the road. Teens will learn how to calm their body, derail thoughts that fuel anger and learn how to communicate and de-escalate situations.
About the Author
---
Michael A. Tompkins, PhD, ABPP, is a licensed psychologist and board certified in behavioral and cognitive psychology by the American Board of Professional Psychology. He is the co-director and co-founder of the San Francisco Bay Area Center for Cognitive Therapy, Assistant Clinical Professor at the University of California at Berkeley, and an adjunct faculty member for the Beck Institute for Cognitive Behavior Therapy. He is the author or co-author of 12 books, including My Anxious Mind: A Teen's Guide to Managing Anxiety and Panic (with Katherine Martinez) (Magination Press, 2010), which is a Magination Press best seller and included in the Reading Well for Young People initiative sponsored by the Wellcome Trust, London, United Kingdom. Dr. Tompkins serves on the Advisory Board of Magination Press, the children's imprint of the American Psychological Association. He lives in Oakland, California. Visit him at sfbacct.com, and on Twitter @drmatompkins. Chloe Douglass works in her home studio to create illustrations, character designs, and story ideas. She graduated from Kingston University with an MA Illustration degree in 2012. She lives in Tooting, London. Visit her at chloeillustrates.co.uk, and on Twitter and Instagram @ChloeIllustrates.