Run: Book One (Hardcover)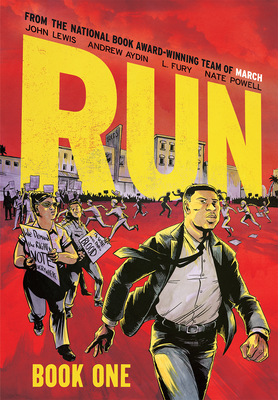 $24.99

Usually arrives at our store in 5-14 business days.
Description
---
RUN, the Eisner Award-Winner for Best Graphic Memoir, is one of the most heralded books of the year including being named a:
New York Times Top 5 YA Books of the Year · Top 10 Great Graphic Novels for Teens (Young Adult Library Services Association) · Washington Post Best Books of the Year · Variety Best Books of the Year · School Library Journal Best Books of the Year · Kirkus Reviews Best Books of the Year · Amazon Best History Book of 2021 • Top Ten Title of the Year (In the Margins Book Award) · In the Margins Book Award for Nonfiction winner · Top Ten Graphic Novels for Adults (American Library Association) · Best Books for Young Readers (U of Penn Graduate School of Education) · Books All Young Georgians Should Read (Georgia Center for the Book)

First you march, then you run. From the #1 bestselling, award–winning team behind March comes the first book in their new, groundbreaking graphic novel series, Run: Book One.

"Run recounts the lost history of what too often follows dramatic change—the pushback of those who refuse it and the resistance of those who believe change has not gone far enough. John Lewis's story has always been a complicated narrative of bravery, loss, and redemption, and Run gives vivid, energetic voice to a chapter of transformation in his young, already extraordinary life." –Stacey Abrams

"In sharing my story, it is my hope that a new generation will be inspired by Run to actively participate in the democratic process and help build a more perfect Union here in America." –Congressman John Lewis

The sequel to the #1 New York Times bestselling graphic novel series March—the continuation of the life story of John Lewis and the struggles seen across the United States after the Selma voting rights campaign.

To John Lewis, the civil rights movement came to an end with the signing of the Voting Rights Act in 1965. But that was after more than five years as one of the preeminent figures of the movement, leading sit–in protests and fighting segregation on interstate busways as an original Freedom Rider. It was after becoming chairman of SNCC (the Student Nonviolent Coordinating Committee) and being the youngest speaker at the March on Washington. It was after helping organize the Mississippi Freedom Summer and the ensuing delegate challenge at the 1964 Democratic National Convention. And after coleading the march from Selma to Montgomery on what became known as "Bloody Sunday." All too often, the depiction of history ends with a great victory. But John Lewis knew that victories are just the beginning. In Run: Book One, John Lewis and longtime collaborator Andrew Aydin reteam with Nate Powell—the award–winning illustrator of the March trilogy—and are joined by L. Fury—making an astonishing graphic novel debut—to tell this often overlooked chapter of civil rights history.
About the Author
---
Congressman John Lewis is a recipient of the Presidential Medal of Freedom and is the US Representative for Georgia's Fifth Congressional District. An American icon known for his role in the civil rights movement, Lewis first joined the movement as a seminary student in Nashville, organizing sit-ins and participating in the first Freedom Ride, which challenged illegal segregation at bus stations across the South. He soon became the chairman of the Student Nonviolent Coordinating Committee (SNCC) and one of the "Big Six" national leaders of the movement, alongside such figures as Martin Luther King Jr. and A. Philip Randolph. As SNCC chairman, Lewis was an architect of, and the youngest featured speaker at, the historic 1963 March on Washington, and was a key figure in the 1964 Mississippi Freedom Summer. Together with Hosea Williams, Lewis led the landmark "Bloody Sunday" march in Selma, Alabama, where police brutality spurred national outrage and hastened passage of the Voting Rights Act of 1965. Lewis is also the author of the award-winning and #1 New York Times bestselling graphic novel memoir series March. John Lewis spends his time between Atlanta, Georgia, and Washington, DC.

Andrew Aydin is the creator and co-author of the graphic novel memoir series, March. An Atlanta native, Andrew was raised by a single mother and grew up reading comic books. In 2008, Congressman Lewis mentioned to Andrew the 1957 comic book Martin Luther King and the Montgomery Story and the role it played in the early days of the civil rights movement. Recognizing the potential for a comic on Congressman Lewis's life to inspire young people, Andrew urged him to write a comic about his time in the movement, but Congressman Lewis had one condition: that Andrew write it with him. Collaborating with artist Nate Powell, the first volume of the March trilogy was published in 2013. Aydin has written for comics such as Bitch Planet and X-Files as well as for Teaching Tolerance Magazine, Horn Book Review, and Creative Loafing. He continues to serve as Digital Director & Policy Advisor to Congressman Lewis in Washington, DC.

L. Fury is a lifelong resident of Houston, Texas. After a stint in the gaming industry and then marketing, she shifted her sights to long-form comics, illustrating the unreleased Double Barrel Shogun. Run is Fury's first graphic novel.

Nate Powell is a National Book Award–winning cartoonist who began self-publishing as an Arkansas teenager in 1992. His work includes Save It for Later; civil rights icon John Lewis's March trilogy and its follow-up Run: Book One; Come Again; Two Dead; Any Empire; and Swallow Me Whole. Powell's work has received four Eisner Awards, two Ignatz Awards, the Comic-Con International Inkpot Award, and multiple ALA and YALSA distinctions. He has discussed his work at the United Nations, on MSNBC's The Rachel Maddow Show, PBS, and CNN. As for his music career, Powell was introduced to the hardcore punk community in 1991, played over 500 shows across North America and Europe in various bands, including underground legends Soophie Nun Squad and Universe, and managed do-it-yourself label Harlan Records from 1994 to 2010. Learn more at www.nate-powell.com.
Praise For…
---
"This worthy successor to the late Congressman Lewis's March graphic memoir trilogy picks up in the civil rights leader's life during the 1960s counterculture revolution…This living history gives faces and voices to the legends of the civil rights era and connects their struggles to the present; the police brutality, voter suppression tactics, and segregationist politics of the 1960s are not so different from those Lewis was still making "good trouble" against at the time of his death in 2020. Lewis's stunning American story and legacy lives on in these pages."
— Publishers Weekly, STARRED Review

"This is a fantastic choice for classrooms… will speak powerfully to anyone trying to make sense of their own values in the face of wider movements and calls to action."
— Booklist, STARRED Review

"An intimate, powerfully revealing look at a crucial, complex time, through the eyes of a true American hero."
— Kirkus Reviews, STARRED Review

"As informative and essential an addition to the nonfiction comic canon as its much-lauded predecessors."
— The Horn Book, STARRED Review

"Extensive biographical, reference, and artistic notes in the back matter will illuminate casual and student readers alike. Just as powerful as the 'March' trilogy, this paean to 'nonviolent soldiers' is principled, tragic, and stirring."
— School Library Journal, STARRED Review

"Run is another indispensable chronicle of the life and work of one of 20th-century America's most exceptional figures, but it's also a mission statement for the work yet to come."
— BookPage, STARRED Review

"There's a timeliness to Run, a reminder that the efforts to keep prospective voters from casting their ballots that are so much in the headlines these days are nothing new. It turns out the animus that drives so much of our nation's history is well suited to this form."
— The New York Times

"Many of the moments in Run speak to related struggles today… Lewis wanted the lessons of the movement to outlive him."
— The Washington Post

"The legacy of civil rights icon John Lewis lives on in Run: Book One."
— TIME

"Run puts down a clear marker for future historians that is both true to Lewis's vision and meticulously researched. Run… shows the experience of Aydin and his team as visual storytellers and the strength of Abrams ComicArts as a "comics-native" literary imprint in supporting this kind of work."
— Forbes

"Run is a startlingly relevant work of art that shines a light on elements of the civil rights movement that do not receive much attention, and shows how the struggle continues even to this day."
— ScreenRant

"It is a powerful account of a pivotal moment… The artful combination of text and images paints a harrowing picture of the violence that continued to rock the movement."
— The Atlanta Journal Constitution

"Run is a worthy successor to March, and in a way, it is almost a more vital work…"
— Comic Book Resources