Dishoom: The first ever cookbook from the much-loved Indian restaurant (Hardcover)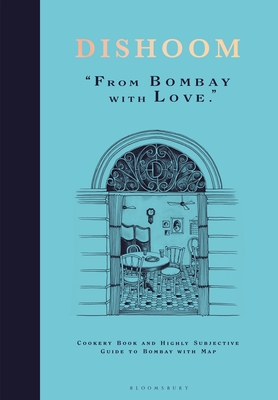 $35.00

Usually arrives at our store in 5-14 business days.
Description
---
THE SUNDAY TIMES BESTSELLER

Transport your loved ones to Bombay this Christmas with the gift of Dishoom

'A love letter to Bombay told through food and stories, including their legendary black daal' Yotam Ottolenghi

At long last, Dishoom share the secrets to their much sought-after Bombay comfort food: the Bacon Naan Roll, Black Daal, Okra Fries, Jackfruit Biryani, Chicken Ruby and Lamb Raan, along with Masala Chai, coolers and cocktails.

As you learn to cook the Dishoom menu, you will also be taken on a day-long tour of south Bombay, peppered with much eating and drinking. You'll discover the simple joy of early chai and omelette at Kyani and Co., of dawdling in Horniman Circle on a lazy morning, of eating your fill on Mohammed Ali Road, of strolling on the sands at Chowpatty at sunset or taking the air at Nariman Point at night.

This beautiful cookery book and its equally beautiful photography will transport you to Dishoom's most treasured corners of an eccentric and charming Bombay. Read it, and you will find yourself replete with recipes and stories to share with all who come to your table.

'This book is a total delight. The photography, the recipes and above all, the stories. I've never read a book that has made me look so longingly at my suitcase' Nigel Slater
About the Author
---
Dishoom serves a much-loved menu of Bombay comfort food and award-winning drinks in beautiful restaurants that each have a unique story. The first Dishoom opened in Covent Garden in 2010, and there are now five restaurants in London, one in Edinburgh, and one in Manchester. Dishoom breaks downbarriers by bringing people together over food and drink: in its restaurants, at its events, and through charity (donating a meal for every meal, with 6.2 million meals donated so far).

Shamil and Kavi Thakrar are co-founders of Dishoom and Naved Nasir is Executive Chef. Shamil and Kavi grew up in London, but have spent many years becoming deeply acquainted with Bombay's flavours and quirks and falling in love with the city. Naved worked in various renowned restaurants in Bombay before moving to London to open Dishoom.This is their first cookbook.
Praise For…
---
"A love letter to Bombay told through food and stories, including their legendary black daal" —Yotam Ottolenghi

"This book is a total delight. The photography, the recipes and above all, the stories. I've never read a book that has made me look so longingly at my suitcase" —Nigel Slater

"There are few cookbooks that immerse you in their subject so thoroughly and so lovingly as Dishoom. Part travel guide, part history, part food manual, this reads like a personal diary with a stonking recipe collection as a bonus. I could eat the Mattar Paneer every week and I probably will, with a Chilli Cheese Toast chaser" —Lulu Grimes

"Like its carefully observed, pitch perfect restaurants, Dishoom's cookbook is a feast for all the senses, and brings the restaurant's delicious dishes into the home kitchen. Every page is begging to be pored over and cooked from, each picture leaping from the page with atmosphere and generosity. It's a gorgeous thing" —Rosie Birkett

"Shamil Thakrar's intimate, rich and lyrical writing and stories, alongside striking photography, takes the reader on a ride from Koolar & Co café to Marine Drive" —Daily Telegraph

"A tantalising foodie tour through the highways and byways of India's largest metropolis" —Sunday Express

"The results prove worth it every time, and the book is a pleasure to read" —Daily Telegraph

"Over 100 comfort food recipes - inspired by Parsi, Muslim, Hindu and Christian traditions - take you from dawn till dusk, starting with breakfast and ending with dinner and a nightcap. Given the time, I'd cook every single one of them" —BBC Good Food Magazine

"Dishoom: From Bombay with Love is a delightful read. Even if you're just after the secret of the bacon naan" —Caterer

"These brilliant, easy-to-follow recipes are a virtual tour of the city's best eating and drinking spots" —Delicious magazine

"The only cookbook my 21 year old son has shown interest in - ever" —Tony Turnbull, The Times

"Bravo for the perfect cookbook: great recipes that really work, witty and friendly words, but also beautiful design and evocative, story-telling photography" —The Spectator

"This cookbook would be top of my Christmas list" —Daily Express

"A book for the masses" —Caterer

"The cookbook we've been waiting for" —Women's Health

"A book for both the coffee table and the kitchen" —Meera Sodha, Guardian Review

"As good as any travel book, if not better" —Mail on Sunday

"This splendid book is both a loving tribute to the city and a sumptuous guide to Dishoom specialties… An irresistible book for any lover of Indian food" —Daily Mail

"A tantalising foodie tour through the highways and byways of India's largest metropolis" —S magazine (Sunday Express)