The Burgess Boys: A Novel (Hardcover)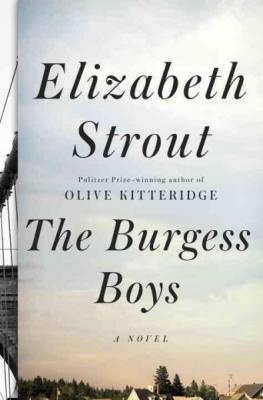 $28.60
Not currently available - email or call for details
Description
---
NEW YORK TIMES BESTSELLER • "What truly makes Strout exceptional . . . is the perfect balance she achieves between the tides of story and depths of feeling."—Chicago Tribune

NAMED ONE OF THE BEST BOOKS OF THE YEAR BY The Washington Post • NPR • Good Housekeeping
 
Haunted by the freak accident that killed their father when they were children, Jim and Bob Burgess escaped from their Maine hometown of Shirley Falls for New York City as soon as they possibly could. Jim, a sleek, successful corporate lawyer, has belittled his bighearted brother their whole lives, and Bob, a Legal Aid attorney who idolizes Jim, has always taken it in stride. But their long-standing dynamic is upended when their sister, Susan—the Burgess sibling who stayed behind—urgently calls them home. Her lonely teenage son, Zach, has gotten himself into a world of trouble, and Susan desperately needs their help. And so the Burgess brothers return to the landscape of their childhood, where the long-buried tensions that have shaped and shadowed their relationship begin to surface in unexpected ways that will change them forever.
 
With a rare combination of brilliant storytelling, exquisite prose, and remarkable insight into character, Elizabeth Strout has brought to life two deeply human protagonists whose struggles and triumphs will resonate with readers long after they turn the final page. Tender, tough-minded, loving, and deeply illuminating about the ties that bind us to family and home, The Burgess Boys is perhaps Elizabeth Strout's most astonishing work of literary art.
About the Author
---
Elizabeth Strout is the #1 New York Times bestselling author of Olive Kitteridge, winner of the Pulitzer Prize; Olive, Again, an Oprah's Book Club pick; Anything Is Possible, winner of the Story Prize; My Name is Lucy Barton, longlisted for the Man Booker Prize; The Burgess Boys, named one of the best books of the year by The Washington Post and NPR; Abide with Me, a national bestseller; and Amy and Isabelle, winner of the Los Angeles Times Art Seidenbaum Award for First Fiction and the Chicago Tribune Heartland Prize. She has also been a finalist for the National Book Critics Circle Award, the PEN/Faulkner Award for Fiction, the International Dublin Literary Award, and the Orange Prize. Her short stories have been published in a number of magazines, including The New Yorker and O: The Oprah Magazine. Elizabeth Strout lives in New York City.
Praise For…
---
"Strout's prose propels the story forward with moments of startlingly poetic clarity."—The New Yorker

"Elizabeth Strout's first two books, Abide with Me and Amy and Isabelle, were highly thought of, and her third, Olive Kitteridge, won the Pulitzer Prize in fiction. But The Burgess Boys, her most recent novel, is her best yet."—The Boston Globe

"Strout's greatest gift as a writer, outside a diamond-sharp precision that packs 320 fast-paced pages full of insight, is her ability to let the reader in on all the rancor of her characters without making any of them truly detestable. . . . Strout creates a portrait of an American community in turmoil that's as ambitious as Philip Roth's American Pastoral but more intimate in tone."—Time

"[Strout's] extraordinary narrative gifts are evident again. . . . At times [The Burgess Boys is] almost effortlessly fluid, with superbly rendered dialogue, sudden and unexpected bolts of humor and . . . startling riffs of gripping emotion."—Associated Press
 
"[Strout] is at her masterful best when conjuring the two Burgess boys. . . . Scenes between them ring so true."—San Francisco Chronicle
 
"No one should be surprised by the poignancy and emotional vigor of Elizabeth Strout's new novel. But the broad social and political range of The Burgess Boys shows just how impressively this extraordinary writer continues to develop."—The Washington Post
 
"Strout deftly exposes the tensions that fester among families. But she also takes a broader view, probing cultural divides. . . . Illustrating the power of roots, Strout assures us we can go home again—though we may not want to."—O: The Oprah Magazine

"Reading an Elizabeth Strout novel is like peering into your neighbor's windows. . . . There is a nuanced tension in the novel, evoked by beautiful and detailed writing. Strout's manifestations of envy, pride, guilt, selflessness, bigotry and love are subtle and spot-on."—Minneapolis Star Tribune

"Strout conveys what it feels like to be an outsider very well, whether she's delving into the quiet inner lives of Somalis in Shirley Falls or showing how the Burgess kids got so alienated from one another. But the details are so keenly observed, you can connect with the characters despite their apparent isolation. . . . [A] gracefully written novel. [Grade:] A."—Entertainment Weekly

"Wincingly funny, moving, wise."—Good Housekeeping

"With her signature lack of sentimentality, a boatload of clear-eyed compassion and a penetrating prose style that makes the novel riveting, Strout tells the story of one Maine family, transformed. Again and again, she identifies precisely the most complex of filial emotions while illuminating our relationships to the larger families we all belong to: a region, a city, America and the world."—More

"The Burgess Boys returns to coastal Maine [with] a grand unifying plot, all twists and damage and dark, morally complex revelations. . . . The grand scale suits Strout, who now adds impresario storytelling at book length to the Down East gift for plainspoken wisdom."—Town & Country
Coverage from NPR