Bob Books - More Beginning Readers Box Set | Phonics, Ages 4 and up, Kindergarten (Stage 1: Starting to Read) (Miscellaneous print)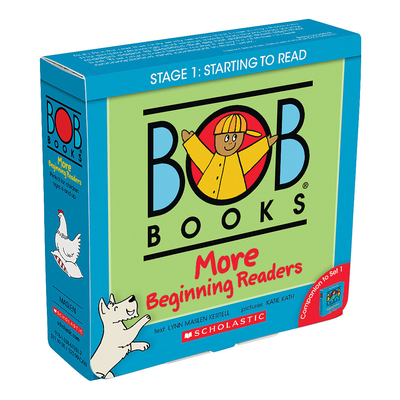 Description
---
A companion set to the bestselling Bob Books Beginning Readers set, featuring the classic Bob Books characters and some new ones, too!This set is perfect for children who have read Bob Books Beginning Readers and need more practice before moving on.• Twelve humorous stories feature the beloved classic Bob Books characters and introduce some new friends, too!• Short vowels and three-letter words in simple sentences make Bob Books More Beginning Readers a fun confidence builder.• Katie Kath's simple but silly illustrations add a tickle to the words, keeping kids smiling as they read.Inside the box you'll find:• 12 easy-to-read, humorous books, 12 pages each• A parent card with tips for helping your child learn to readYour child will soon be joining the millions of happy kids who say, "I read the whole book!"
About the Author
---
Lynn Maslen Kertell is the current manager of Bob Books and the author of the Bob Books sets Sight Words (Kindergarten), Sight Words (First Grade), Rhyming Words, First Stories, and Animal Stories (Kindergarten). You can visit her online and learn more about Bob Books at bobbooks.com.
Katie Kath has illustrated several picture and middle grade books, some of which have been recognized by the Bank Street College of Education & Children's Book Committee, the New York Public Library, the Children's Book Council, and the Junior Library Guild. You can visit her online at ktkath.com.
Praise For…
---
Praise for Bob Books:"Forget Dick and Jane. Your beginning reader needs Bob Books to succeed." -- cpamomva.blogspot.com"Tiny enough to sneak in a very full diaper bag, we are enjoying them here, there, and everywhere." -- needsnewbatteries.blogspot.com"They are a wonderful addition to a home library, school library, or a homeschool library. I love the smiles on my daughters' faces when they have succeeded in reading a book--that's priceless!" -- ourgaggleofgirls.com"Bob Books made our children into avid readers. Best investment I ever made."-- The Lewiston Tribune

Praise for Bob Books:"Forget Dick and Jane. Your beginning reader needs Bob Books to succeed." -- cpamomva.blogspot.com"Tiny enough to sneak in a very full diaper bag, we are enjoying them here, there, and everywhere." -- needsnewbatteries.blogspot.com"They are a wonderful addition to a home library, school library, or a homeschool library. I love the smiles on my daughters' faces when they have succeeded in reading a book--that's priceless!" -- ourgaggleofgirls.com"Bob Books made our children into avid readers. Best investment I ever made."-- The Lewiston Tribune