I Survived: Ten Thrilling Books (Boxed Set) (Multiple copy pack)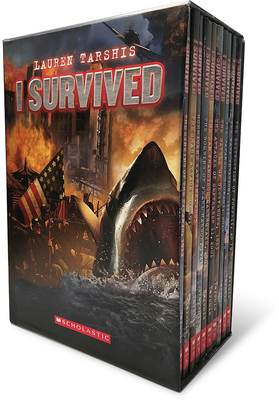 $49.90
Usually arrives at our store in 2-8 business days.
Description
---
History's most exciting and terrifying events come to life in these ten books in the New York Times bestselling I Survived series.
When disaster strikes, heroes are made.

A collectible box set of ten books in the bestselling I Survived series from author Lauren Tarshis! This set includes paperback editions of these books:

I Survived the Sinking of the Titanic, 1912
I Survived the Shark Attacks of 1916
I Survived the Attacks of September 11, 2001
I Survived the Nazi Invasion, 1944
I Survived the Bombing of Pearl Harbor, 1941
I Survived the Battle of Gettysburg, 1863
I Survived the Destruction of Pompeii, AD 79
I Survived Hurricane Katrina, 2005
I Survived the San Francisco Earthquake, 1906
I Survived the Japanese Tsunami, 2011

With relatable characters and riveting plotlines, the I Survived books are perfect for reluctant readers or any young reader who enjoys an action packed, page turning thriller. Each book also contains several pages of nonfiction content, encouraging readers to further explore the historical topic.
About the Author
---
Lauren Tarshis's New York Times bestselling I Survived series tells stories of young people and their resilience and strength in the midst of unimaginable disasters and times of turmoil. Lauren has brought her signature warmth and exhaustive research to topics such as the battle of D-Day, the American Revolution, Hurricane Katrina, the bombing of Pearl Harbor, and other world events. She lives in Connecticut with her family, and can be found online at laurentarshis.com.