I'll Wait, Mr. Panda / Yo voy a esperar, Sr. Panda (Bilingual) (Paperback)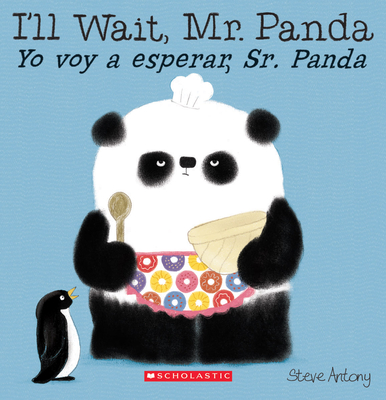 $6.99

Usually arrives at our store in 5-14 business days.
Description
---
Mr. Panda shows that good things come to those who wait!Mr. Panda from Steve Antony's bestselling, funny manners book Please, Mr. Panda is back!This time, Mr. Panda's black-and-white animal friends are curious what he's making, but only one has the patience to stick around. An alpaca, an aardvark, rabbits, and a bird all wind up missing out. It's the penguin who declares, "I'll wait, Mr. Panda." The penguin is rewarded with a big SURPRISE: a giant doughnut!De Steve Anthony, el autor de Please, Mr. Panda / Por favor, Sr. Panda, nos llega I'll Wait, Mr. Panda / Yo voy a esperar, Sr. Panda.En esta ocasión, los amigos del Sr. Panda quieren saber qué cocina el Sr. Panda. Pero solo uno está dispuesto a esperar la respuesta, el pingüino, ¡quien recibirá una gran SORPRESA!
About the Author
---
Steve Antony is the popular author and illustrator of Please, Mr. Panda (S'il vous plaît, M. Panda​); I'll Wait, Mr. Panda (C'est prêt, M. Panda?); Thank You, Mr. Panda (Merci, M. Panda); The Queen's Hat; Green Lizards vs. Red Rectangles; and Betty Goes Bananas. The Queen's Hat was nominated for the Kate Greenaway Medal in the UK. Steve lives in Swindon, England.
Praise For…
---
Praise for Please, Mr. Panda " Smart design decisions by Antony... distinguish his visual storytelling. The warm gray backdrop and parade of black and white animals (a skunk, an ostrich, an orca) make the candy-colored doughnuts look all the more tantalizing." -Publishers Weekly
" Households with toddlers may find a new family catchphrase as Mr. Panda demonstrates one approach to eliciting those elusive 'magic words.' Simple yet funny enough for multiple readings." -Kirkus Reviews
" A fun storytime selection and a solid option for parents or teachers looking for a creative way to emphasize the importance of saying, 'Please' and 'Thank you.'" -School Library Journal
Praise for Please, Mr. Panda " Smart design decisions by Antony... distinguish his visual storytelling. The warm gray backdrop and parade of black and white animals (a skunk, an ostrich, an orca) make the candy-colored doughnuts look all the more tantalizing." -Publishers Weekly
" Households with toddlers may find a new family catchphrase as Mr. Panda demonstrates one approach to eliciting those elusive 'magic words.' Simple yet funny enough for multiple readings." -Kirkus Reviews
" A fun storytime selection and a solid option for parents or teachers looking for a creative way to emphasize the importance of saying, 'Please' and 'Thank you.'" -School Library Journal