Looking for an Enemy: 8 Essays on Antisemitism (Paperback)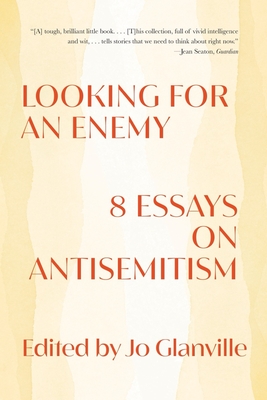 Description
---
Great Jewish thinkers offer salient historical commentary on the roots of antisemitism and its contemporary resurgence.
From medieval accusations that Jews murder Christians for their blood to the far-right conspiracy theories animating present-day political discourse, it's clear that the belief that Jews are plotting against society never dies—it just adapts to suit the times. In eight illuminating essays from brilliant Jewish writers and thinkers, Looking for an Enemy offers an urgent, profound take on the experience of antisemitism and its historical context.
In order to present a nuanced, global understanding of antisemitism, editor Jo Glanville solicited essays from writers across a wide spectrum of ages, political ideologies, and nationalities. American rabbi Jill Jacobs and respected Israeli historian Tom Segev explore the thorny question of antisemitism in politics. British journalist Daniel Trilling investigates how antisemitism drives far-right extremism, while author Philip Spencer rethinks the forms that antisemitism takes on the left. Polish writer Mikolaj Grynberg reflects on a childhood shadowed by the trauma of the Holocaust; journalist Natasha Lehrer and novelist Olga Grjasnowa explore the culture of antisemitism, and the forces behind it, in France and Germany. In her own contribution, Glanville searches for the historical roots of this dangerous hatred.
In moving memoir, rich history, and incisive political commentary, these essays navigate the complex differences in each country's relationship to its Jewish citizens and reveal the contemporary face of antisemitism. Eye-opening and evocative, Looking for an Enemy explores how an irrational belief can still flourish in a supposedly rational age.
About the Author
---
Jo Glanville is a journalist and award-winning editor. Her work has appeared in the Guardian, London Review of Books, New York Times, Jewish Quarterly, and Financial Times, among other publications. She lives in London.
Praise For…
---
One would be hard-pressed to find such a succinct and yet fulsome discussion on the state of antisemitism today as is found in this collection... A bold yet troubling treasure.
— Library Journal

Glanville brings together an impressive set of essays... The contributors bring a healthy diversity of experiences, and...the pieces, taken as a whole, transcend partisan positions for a larger look at 'antisemitism's resurgence.' The result is eye-opening.
— Publishers Weekly

Well-curated... The variety of perspectives in this slim collection captures the emotional intensity of [antisemitism] and the urgent need to address it.
— Kirkus Reviews

[A] tough, brilliant little book [that] pins down antisemitism in its fluorescent modern form, but with its bizarre, repetitious history.… This collection, full of vivid intelligence and wit,… tells stories that we need to think about right now
— Jean Seaton - Observer

In this collection of essays, serious writers grapple with a serious and increasingly urgent question: What drives those who hate Jews, and why is that hatred stirring once more? Whether through careful analysis or evocative and moving memoir; whether writing from Europe, Israel or the US; and whether you agree with all, some or none of them, they combine to offer a timely perspective on what, rather bleakly, seems to be a timeless problem. Looking for an Enemy sheds fresh and revealing light on an ancient menace.
— Jonathan Freedland, journalist and host of The Long View

This collection of essays is demanding in the best possible way. It is tough because the authors, who do not all agree in their approach, do not compromise on this most explosive of topics. It is painful because there are narratives here that won't leave you after you've put the book down.
— Sir Trevor Phillips, broadcaster and host of Trevor Phillips on Sunday

Like all the best meetings of Jewish minds, this book will make you think, argue and see the world anew.
— Hadley Freeman, author of House of Glass