Essential Tennis: Improve Faster, Play Smarter, and Win More Matches (Hardcover)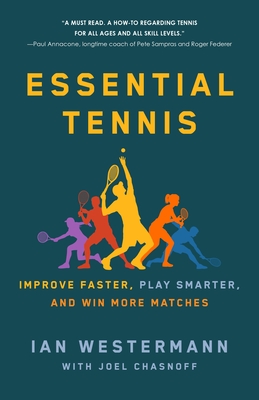 Description
---
The essential book from online tennis coaching sensation Ian Westermann, founder of EssentialTennis.com

What's the number one thing stopping you from playing your best tennis?

Ian Westermann, founder of the world's #1 online tennis instruction portal, Essentialtennis.com, will confidently say it's an obstacle you probably never thought of: The ball. You might think this sounds ridiculous. The whole point of tennis is to hit the ball over the net and in, so how can the ball be the thing that's standing in the way? In fact, this is why the ball is such an impediment: your desire to hit a good shot, with the right mix of power and spin, to a specific spot on the court, prevents you from striking the ball the way you should.

In Essential Tennis, readers – players and coaches, alike – will learn how improving at tennis actually happens and how to easily implement these lessons and integrate them into better play on the court. Players will hit stronger shots, make fewer errors, and beat players who are currently beating them. Coaches will look differently at what it means to provide a student with a holistic learning experience.

Essential Tennis contains technique-based instruction for executing groundstrokes, volleys, and serves, as well as progressions, drills, and mindsets players should incorporate. Westermann illuminates strokes, movement, strategy, and mental toughness – all proven to be successful over 20 years with clients of all ages and skill levels.
About the Author
---
IAN WESTERMANN is the founder of EssentialTennis.com, the world's #1 online tennis instruction portal launched in 2011. After graduating college, he took a job at Congressional Country Club in Bethesda, Maryland. Now, Westermann and his staff of coaches, content planners, and production crew guide the improvement of thousands of students from every corner of the world—more than 140 countries in all. Westermann lives in Milwaukee with his family.

JOEL CHASNOFF is a stand-up comedian and author of several books, including the comedic memoir The 188th Crybaby Brigade. A Chicago native, he currently splits his time between Austin, TX and Tel Aviv.
Praise For…
---
"This is a must read. A 'how to' regarding tennis for all ages & all skill levels. For too long we've been waiting for something like this to come along. Now, tennis players everywhere have terrific guidance and information to continue to improve their games." —Paul Annacone, long-time coach of Pete Sampras and Roger Federer

"Great read. Something for all ages and levels. This can move the needle in your game! I really enjoyed the book." —Rick Macci, USPTA Hall of Fame Master Professional and former coach of Venus and Serena Williams, Andy Roddick, and Maria Sharapova

"Technical, strategy, physical and mental pillars - The essence of tennis." —Emilio Sanchez, former doubles world #1 player and winner of five Grand Slam titles

"Not just highly entertaining, but more importantly, totally relevant. There is so much to learn from this book, even for me! I have always been a believer in what Ian teaches and I'm glad to see that he put his ideas into a book. I highly recommend it." —Gigi Fernandez, seventeen-time Grand Slam Champion, two-time Olympic Gold medalist, former number one world doubles player, and member of the International Tennis Hall of Fame

"Essential Tennis will change your game—and your life." —Murphy Jensen, 1993 French Open Doubles Champion and Coach of the Washington Kastles