The Salt Grows Heavy (Hardcover)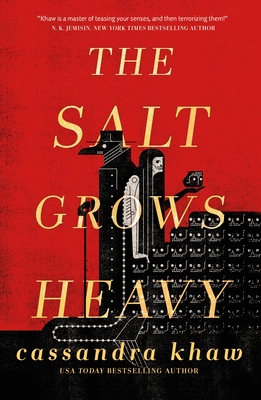 $21.99

Usually arrives at our store in 5-14 business days.
May 2023 Indie Next List
---
"Khaw's terrifying, beautiful fairy tale is drenched in horror, but under the violence and the blood, despite immeasurable loss, there's a surprising strand of love striving to survive in an all-but-hopeless world."
— Emma Aprile, Carmichael's Bookstore, Louisville, KY
Description
---
From Cassandra Khaw, USA Today bestselling author of Nothing But Blackened Teeth, comes The Salt Grows Heavy, a razor-sharp and bewitching fairy tale of discovering the darkness in the world, and the darkness within oneself.

"This brilliant novella is not to be missed." —Publishers Weekly, STARRED review
"With this brilliantly constructed tale...Khaw cements their status as a must-read author." —Library Journal, STARRED review

An Indie Next Pick! | An NPR Best Book of 2023!

You may think you know how the fairy tale goes: a mermaid comes to shore and weds the prince. But what the fables forget is that mermaids have teeth. And now, her daughters have devoured the kingdom and burned it to ashes.

On the run, the mermaid is joined by a mysterious plague doctor with a darkness of their own. Deep in the eerie, snow-crusted forest, the pair stumble upon a village of ageless children who thirst for blood, and the three "saints" who control them.

The mermaid and her doctor must embrace the cruelest parts of their true nature if they hope to survive.

Also by Cassandra Khaw:
Nothing But Blackened Teeth
A Song for Quiet
Hammers on Bone
The Dead Take the A Train (co-written with Richard Kadrey)
About the Author
---
CASSANDRA KHAW is the USA Today bestselling author of Nothing But Blackened Teeth and the Bram Stoker Award-winner, Breakable Things. Other notable works of theirs are The Salt Grows Heavy and British Fantasy Award and Locus Award finalist, Hammers on Bone. Khaw's work can be found in places like The Magazine of Fantasy & Science Fiction, Year's Best Science Fiction and Fantasy, and Tor.com. Khaw is also the co-author of The Dead Take the A Train, co-written with bestselling author Richard Kadrey.
Praise For…
---
An Indie Next Pick! | An NPR Best Book of 2023

"Devastatingly effective…a folklore-infused world that feels wholly unique. Expertly blending a gothic atmosphere with elements of splatterpunk, this brilliant novella is not to be missed." —Publishers Weekly, STARRED review

"With this brilliantly constructed tale that consciously takes on a well-known story and violently breaks it open to reveal a heartfelt core, Khaw cements their status as a must-read author." —Library Journal, STARRED review

"A feverishly gory, grotesquely beautiful and baroque fairy-tale-meets-love-sonnet. Cassandra Khaw's imagination is limitless." —Paul Tremblay, author of The Cabin at the End of the World and A Head Full of Ghosts

"The Salt Grows Heavy will hit you in your heart and in your gut at the same time, while never losing its grip on the gorgeous prose that makes Khaw's work so spellbinding. It's another riveting success from one of horror's finest storytellers." —Paste Magazine

"Cassandra Khaw's writing is never more lyrical than when they're describing the knife in your heart. The bones of a fairy tale sunk deep in a charnel house of descriptive prose, an elegant confection with a blood-soaked core. I devoured it in one sitting." —T. Kingfisher, multi-award winning author of What Moves the Dead and Nettle & Bone

"[B]eautiful in its darkness; much like the mermaids of lore — before they were transformed into manatee-sweet, soft-haired sirens — it has teeth. Readers in the mood to savor a silver-tongued little nightmare will sink happily into its depths." —NPR

"Khaw has cemented their status as horror royalty, once and for all, with The Salt Grows Heavy….a grotesquely perfect feast." —Locus

"A gorgeous and gory horror fantasy novella that thrums with the pull of the deep." —Shelf Awareness, STARRED review

"Grotesque, devastating, and oddly heartening, Khaw's voice stands out in a world mired by uncertainty and all-too-human monsters." —Tor.com

"A beautifully gory book…. The Salt Grows Heavy will delight and horrify you." —Chicago Review of Books

"Short but action-packed, unctuous, and deliciously creepy, a mash-up of Angela Carter's dark fairytale retellings and the poetic love story core of This is How You Lose the Time War by Amal el-Mohtar and Max Gladstone (2019)." —Booklist

"A grim, fantastical story…The Salt Grows Heavy leaves readers indescribably hungry, ready to beg for more." —Rue Morgue Magazine

"Khaw uses poetically beautiful words to tear open your chest and gnaw on your ribs in this needle-sharp novella." —Kaaron Warren, author of Slights and The Grief Hole

"Cassandra Khaw's writing is immaculate, with every word carefully chosen for maximum impact. The Salt Grows Heavy is a truly mesmerizing story and one of the finest works of horror and dark fantasy I have ever read, dripping with a gruesome and disquieting passion." —Grimdark Magazine

"Khaw's writing is masterful, and their horror is gruesome and gleeful, rendered in prose so grisly, you have to pick it out from between your teeth." —Gizmodo

"Cassandra Khaw's steely prose is matched only by the inventiveness of their imagination. The Salt Grows Heavy demonstrates their continuing mastery of the novella form with a story Angela Carter would be jealous to have written." —John Langan, author of Corpsemouth and Other Autobiographies

"A brutal and deadly romp whose language is as sharp and glittery as a scalpel made of ice. Strange and compelling, The Salt Grows Heavy is unlike anything else out there, a dark spell with needle-like teeth." —Brian Evenson, author of The Glassy, Burning Floor of Hell and Song for the Unraveling of the World

Praise for Nothing But Blackened Teeth
A USA TODAY BESTSELLER • A Bram Stoker, Shirley Jackson, British Fantasy, and World Fantasy Award Finalist! • An Indie Next Pick! • An October LibraryReads Pick!

"Brutally delicious! Khaw is a master of teasing your senses, and then terrorizing them!" —N.K. Jemisin, New York Times bestselling author of The Fifth Season

"This is a glorious poem, a slow-motion collapse leading to the inevitable haunting. It is beautiful and it is brutal and it is heartbroken. Absolutely recommended." —Seanan McGuire, New York Times bestselling author of Every Heart a Doorway

"Imagine chucking House on Haunted Hill, Japanese folklore, Clive Barker, and Kathy Acker into a literary blender. Nothing But Blackened Teeth reads like the ghost-punk noir you never knew you needed. It's sharp, playful, and nasty as hell." —Paul Tremblay, author of A Head Full of Ghosts and Survivor Song

"Khaw's prose oozes dread....Horror readers and folklore fans will find this tale of terror to be brutally satisfying." —Publishers Weekly

"Khaw's tale seems to come at you straight, setting up your story expectations, but then twists the knife at the last minute, leaving you reeling, but wanting more." —Richard Kadrey, New York Times bestselling author of the Sandman Slim series

"Khaw's got a sterling premise, enduring lore, and the fresh talent to voice it." —Josh Malerman, New York Times bestselling author of Bird Box

"Delicate and disgusting...Each page holds an image more finely drawn and disturbing than the last." —T. Kingfisher, author of The Twisted Ones

"This book burns and crackles and slithers, its prose as beautiful and deadly as its horror. Cassandra Khaw is a master of the terrifying tale." —Sam J. Miller, Nebula-Award-winning author of Blackfish City

"Reading Cassandra Khaw is akin to watching a nightmare ballet, full of beauty and elegance, pain and fragility, and breathless terror. Nothing but Blackened Teeth is mesmerizing. Don't miss it!" —Christopher Golden, New York Times bestselling author of Ararat and Red Hands

"Khaw is a prose wizard who has quickly become an auto-buy for me. This story of a wedding at a malevolent manor is as unexpected and delightful as their poetic approach to horror, and I loved every sharp, delicious twist of it." —Kevin Hearne, New York Times bestselling author of the Iron Druid Chronicles

"This is Hill House for this century, this is Belasco House with people we've known since third grade, and it's got a smile so wicked you might just have to grin along with it. I know I did." —Stephen Graham Jones, New York Times bestselling author of The Only Good Indians

"Khaw is always compulsively readable. This was a wonderful haunted-house story, modern characterizations in compelling tension with a lyrically beautiful ancient Japanese residence." —Kij Johnson, winner of the Hugo, Nebula, and World Fantasy Awards

"Readers looking for bite-size horror on a stormy night will appreciate Khaw's twisted tale." —BookPage

"What with poisonous relationships, parasite houses, and ghost brides, Nothing But Blackened Teeth is a really bad idea for a wedding, and a really great idea for a nightmare-on-the-page. This book is so magnificently rotten it writhes with literary maggots, and deserves a place of honor among its peers in horror." —C. S. E. Cooney, World Fantasy Award-winning author of Bone Swans: Stories

"A deft and creepy haunted house story, written in a lyrical style that heightens the disorienting, phantasmagoric nature of the tale. Nothing But Blackened Teeth is the kind of story you lose sleep over." —Brian Evenson, author of Song for the Unraveling of the World

"If Guillermo del Toro directed The Ring, it might play out something like this engaging thriller. Japanese mythological creatures come to life in this dynamic, unique tale that will satisfy horror readers eager for fresh blood." —Booklist

"A feast for the senses. Deeply enriching, twisted, and deliciously dark, the upcoming novella is a definite must-read." —The Nerd Daily