Nazi Wives: The Women at the Top of Hitler's Germany (Paperback)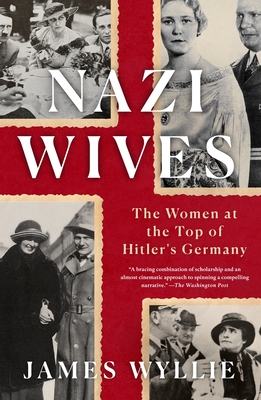 $17.99

Usually arrives at our store in 5-14 business days.
Description
---
Nazi Wives is a fascinating look at the personal lives, psychological profiles, and marriages of the wives of officers in Hitler's inner circle.

Goering, Goebbels, Himmler, Heydrich, Hess, Bormann—names synonymous with power and influence in the Third Reich. Perhaps less familiar are Carin, Emmy, Magda, Margaret, Lina, Ilse and Gerda...

These are the women behind the infamous men—complex individuals with distinctive personalities who were captivated by Hitler and whose everyday lives were governed by Nazi ideology. Throughout the rise and fall of Nazism these women loved and lost, raised families and quarreled with their husbands and each other, all the while jostling for position with the Fuhrer himself. Until now, they have been treated as minor characters, their significance ignored, as if they were unaware of their husbands' murderous acts, despite the evidence that was all around them: the stolen art on their walls, the slave labor in their homes, and the produce grown in concentration camps on their tables.

James Wyllie's Nazi Wives explores these women in detail for the first time, skillfully interweaving their stories through years of struggle, power, decline and destruction into the post-war twilight of denial and delusion.
About the Author
---
James Wyllie is an author, award-winning screenwriter and broadcaster. He is the author of GOERING AND GOERING, THE TIME TRAVELER'S HANDBOOK, and CODEBREAKERS: THE TRUE STORY OF THE SECRET INTELLIGENCE TEAM THAT CHANGED THE COURSE OF THE FIRST WORLD WAR. He has worked on numerous films for the BBC and Film4 and has written for a number of TV drama series.
Praise For…
---
"[Wyllie] recounts their stories with a bracing combination of scholarship and an almost cinematic approach to spinning a compelling narrative." –The Washington Post

"A chilling and richly detailed group portrait of the women who married Third Reich leaders...Wyllie sets a brisk pace through colorful material drawn from primary and secondary sources." –Publishers Weekly

"Wyllie provides insight into the daily public and private lives of Nazi elite and Adolf Hitler's close inner circle...Recommended for readers of popular World War II history." --Library Journal

"The literary equivalent of gawking at a multi-car pile-up – from the safe distance of eight decades." --Forward

"Wyllie tells the stories of the wives of Goering, Goebbels, Himmler and others…a distinctive prism through which to view the period." —The Guardian (UK)

"Wyllie's study of the other halves of the Third Reich is exhaustive and studded with fascinating detail." —The Tablet (UK)

Praise for GOERING AND GOERING:

"A fascinating story of intrigue and family differences…Wyllie charts a relationship of seemingly irreconcilable extremes set against the backdrop of Nazi Germany." —The Tribune (UK)

Praise for THE TIME TRAVELER'S HANDBOOK:

"This jocular, fact-filled volume imagines what it would be like to witness or participate in various historical events…I've strapped on my time-traveler goggles." —The New York Times