Black Spartacus: The Epic Life of Toussaint Louverture (Paperback)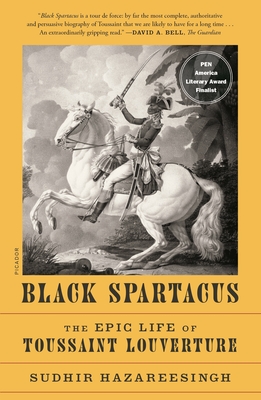 $22.00

Usually arrives at our store in 5-14 business days.
Description
---
Winner of the 2021 Wolfson History Prize

"Black Spartacus is a tour de force: by far the most complete, authoritative and persuasive biography of Toussaint that we are likely to have for a long time . . . An extraordinarily gripping read." —David A. Bell, The Guardian

A new interpretation of the life of the Haitian revolutionary Toussaint Louverture

Among the defining figures of the Age of Revolution, Toussaint Louverture is the most enigmatic. Though the Haitian revolutionary's image has multiplied across the globe—appearing on banknotes and in bronze, on T-shirts and in film—the only definitive portrait executed in his lifetime has been lost. Well versed in the work of everyone from Machiavelli to Rousseau, he was nonetheless dismissed by Thomas Jefferson as a "cannibal." A Caribbean acolyte of the European Enlightenment, Toussaint nurtured a class of black Catholic clergymen who became one of the pillars of his rule, while his supporters also believed he communicated with vodou spirits. And for a leader who once summed up his modus operandi with the phrase "Say little but do as much as possible," he was a prolific and indefatigable correspondent, famous for exhausting the five secretaries he maintained, simultaneously, at the height of his power in the 1790s.

Employing groundbreaking archival research and a keen interpretive lens, Sudhir Hazareesingh restores Toussaint to his full complexity in Black Spartacus. At a time when his subject has, variously, been reduced to little more than a one-dimensional icon of liberation or criticized for his personal failings—his white mistresses, his early ownership of slaves, his authoritarianism —Hazareesingh proposes a new conception of Toussaint's understanding of himself and his role in the Atlantic world of the late eighteenth century. Black Spartacus is a work of both biography and intellectual history, rich with insights into Toussaint's fundamental hybridity—his ability to unite European, African, and Caribbean traditions in the service of his revolutionary aims. Hazareesingh offers a new and resonant interpretation of Toussaint's racial politics, showing how he used Enlightenment ideas to argue for the equal dignity of all human beings while simultaneously insisting on his own world-historical importance and the universal pertinence of blackness—a message which chimed particularly powerfully among African Americans.

Ultimately, Black Spartacus offers a vigorous argument in favor of "getting back to Toussaint"—a call to take Haiti's founding father seriously on his own terms, and to honor his role in shaping the postcolonial world to come.

Shortlisted for the Baillie Gifford Prize | Finalist for the PEN / Jacqueline Bograd Weld Award for Biography

Named a best book of the year by the The Economist | Times Literary Supplement | New Statesman
About the Author
---
Sudhir Hazareesingh was born in Mauritius. He is a Fellow of the British Academy and has been a Fellow and Tutor in Politics at Balliol College, Oxford, since 1990. He has written extensively about French intellectual and cultural history, and among his books are The Legend of Napoleon, In the Shadow of the General and How the French Think. He won the Prix du Mémorial d'Ajaccio and the Prix de la Fondation Napoléon for the first of these, a Prix d'Histoire du Sénat for the second, and the Grand Prix du Livre d'Idées for the third.
Praise For…
---
"Black Spartacus is a tour de force: by far the most complete, authoritative and persuasive biography of Toussaint that we are likely to have for a long time . . . An extraordinarily gripping read." —David A. Bell, The Guardian

"[A] superbly researched book . . . This reconstruction gives [Toussaint's] political, military and intellectual accomplishments their due." —The Economist

"[Hazareesingh's] way into the story is through Toussaint's military adventures and, more importantly, through his catlike politics . . . Lustrous pearls . . . , scattered throughout Black Spartacus, turn this detailed, blow-by-blow account of Toussaint's military exploits into a dazzling, complicated narrative. They add romance and family intrigue to a plot that is also dotted with Toussaint's own writing, which will be appreciated by those who have never heard his worldly, arrogant and eloquent voice." —Amy Wilentz, Spectator

"Remarkable . . . [Sudhir Hazareesingh] deftly tells the byzantine and fragmented history to paint perhaps the sharpest portrait yet of Louverture . . . The book also provides new and important insights into seminal events such as the initial insurrection of 1791 . . . Black Spartacus is a triumph. It takes a nearly impossibly complex history and weaves it into a compelling and accurate narrative that reads like fiction." —Ben Horowitz, Financial Times

"An essential contribution to scholarly understanding of the Haitian Revolution and of the life of Louverture . . . [Black Spartacus's] deft narrative ably synthesizes the vast breadth of [new] sources . . . The the single most comprehensive and balanced biography of Louverture to date." —Nick Nesbitt, French Studies

"A mesmerizing biography . . . Hazareesingh writes beautifully about why Toussaint fought for three different sides: rebellious slaves Jean-François and Biassou; the Spanish; and then the French . . . As Haitian poet Jeudinema writes, ochan pou laverite ki pa gen klaksonn, which translates to: "Praise be to truth that has no honk." Ochan for Sudhir Hazareesingh's Black Spartacus." —Adolf Alzuphar, Los Angeles Review of Books

"Sudhir Hazareesingh's engrossing [Black Spartacus] tells the story of how the enigmatic, deeply religious boy from Bréda came to be one of the most celebrated, feared and consequential political leaders of his generation . . . Hazareesingh brings to the task a voracious appetite for original sources and a discerning ear for those which have the ring of truth. He also has a gift for tracing those threads that reveal a previously unrecognized pattern in the fabric of a life." —Nathan Perl-Rosenthal, The Wall Street Journal

"Hazareesingh presents a deeply researched, energetic, and comprehensively reenvisioned study of the extraordinary life and still-growing influence of Haiti's liberator and founding father . . . From daring military maneuvers to innovations in governing, dignity in his tragic fall, and galvanizing impact as 'the first Black superhero of the modern age,' here, vividly and invaluably, is Toussaint Louverture in full." —Donna Seaman, Booklist (starred review)

"With Black Spartacus, Sudhir Hazareesingh has produced the fourth – and best – biography of Toussaint Louverture since the bicentenary of Haitian independence … The book deftly tackles the early stages of the slave uprising and gives one of the most convincing accounts yet of Toussaint's likely role in its opening moves. The use of non-traditional archives is particularly refreshing and allows Hazareesingh to frequently foreground the importance of Vodou to the revolutionaries." —Paul Clammer, History Today

"Tracing the growth of Louverture from revolutionary leader to mythic figure, this engrossing read reveals and recovers the historic place both he and the country of Haiti deserve to occupy in the story of the Atlantic world's creation and re-creation." —Thomas J. Davis, Library Journal (starred review)

"An ideas-rich biography shows why Toussaint Louverture matters more than ever . . . an outstanding biography that breaks fresh ground and scrapes the crust of folklore, and cliché, from the Toussaint story . . . Hazareesingh smartly balances a twisty narrative with wider analysis of the forces and ideas at work. His scrupulous and absorbing biography not only portrays Toussaint the swashbuckling hero. It celebrates the philosopher . . . After the summer of 2020, there could hardly be a more urgent and valuable book." —Boyd Tonkin, The Arts Desk

"If anyone lived an epic life, it is [Louverture], and Hazareesingh captures it perfectly in his new book . . . This book is for absolutely anyone that loves history . . . Louverture's story will move you and make you think differently at the same time." —Jason Park, Medium

"A thorough reconsideration of the legendary Haitian leader, whose deployment of republican ideals of racial equality were radical and transformative—and still resonate today . . . [Black Spartacus] closely examines the many contradictory accounts of Toussaint's dealings before and after [the start of the Haitian Revolution] . . . A knowledgeable biography that carefully considers the nuances of Toussaint's character and the legends that surround him." —Kirkus Reviews