Brothers and Sisters: The Allman Brothers Band and the Inside Story of the Album That Defined the '70s (Hardcover)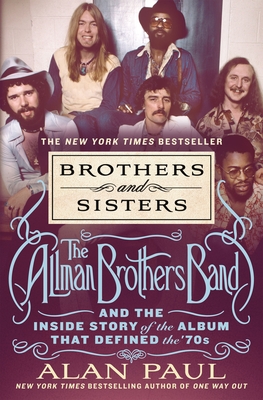 $32.00

Available for Pre-Order Now
Description
---
New York Times bestselling author Alan Paul's in-depth narrative look at the Allman Brothers' most successful album, and a portrait of an era in rock and roll and American history.

The Allman Brothers Band's Brothers and Sisters was not only the band's best-selling album, at over seven million copies sold, but it was also a powerfully influential release, both musically and culturally, one whose influence continues to be profoundly felt.

Celebrating the album's 50th anniversary, Brothers and Sisters the book delves into the making of the album, while also presenting a broader cultural history of the era, based on first-person interviews, historical documents and deep research.

Brothers and Sisters traces the making of the template-shaping record alongside the story of how the Allman Brothers came to the rescue of a flailing Jimmy Carter presidential campaign and helped get the former governor of Georgia elected president; how Gregg Allman's marriage to Cher was an early harbinger of an emerging celebrity media culture; and how the band's success led to internal fissures. This is also a look at how the band helped create the Southern Rock genre and their relationship with the Grateful Dead and Lynyrd Skynyrd, among other acts.

With exclusive access to hundreds of hours of interviews with every major player, including Dickey Betts and Gregg Allman, conducted by longtime ABB archivist, photographer and "Tour Mystic" Kirk West, Brothers and Sisters is an in-depth, honest assessments of the band's career, history, and highs and lows.
About the Author
---
ALAN PAUL is the author of the New York Times bestseller One Way Out: The Inside History of the Allman Brothers Band, the definitive book on the Rock and Roll Hall of Fame band and Texas Flood: the Inside Story of Stevie Ray Vaughan. The latter has been optioned and is being developed for both documentary and feature films. His first book, Big in China, is about his experiences raising an American family, forming a band and becoming an unlikely rock star in Beijing. He also founded Friends of the Brothers, the premier celebration of the music of the Allman Brothers Band, featuring members of the Dickey Betts, Jaimoe and Gregg Allman bands. He is a regular guest on radio shows and a frequent contributor to The Wall Street Journal, Guitar World, and other publications. He lives in New Jersey.
Praise For…
---
"Alan Paul is rock's finest narrative historian." —Ted Drozdowski, Premier Guitar

"No journalist knows the ins and outs of the Allman Brothers Band better than Alan Paul." —Warren Haynes, the Allman Brothers Band

"If you want to know the real deal, read Alan Paul." —Oteil Burbridge, the Allman Brothers Band