Wilder (Paperback)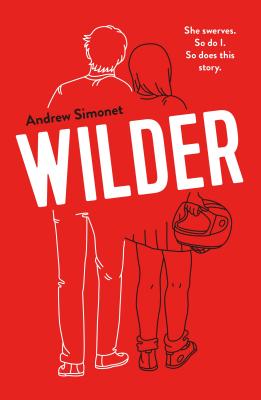 $10.99

Usually arrives at our store in 5-14 business days.
Description
---
Andrew Simonet's Wilder is a debut YA novel about passion, anger, secrets, and what happens when two teens from different worlds meet in in-school suspension.

I met Melissa in the rubber room, a.k.a. in-school suspension. And that's not her real name.
She had secrets, I had enemies.
"People are either useful or dangerous," she said. "One or the other."
"Which one am I?" I said.
"You're both."
Meili was right. (That's her real name.)
You can solve a lot of problems if you don't mind getting hurt.

Jason Wilder is in permanent in-school suspension for fighting. Meili Wen gets there by breaking a girl's finger. Jason and Meili don't just connect; they collide. Two people who would never cross paths—outsiders from radically different backgrounds—form an exhilarating, unpredictable bond. When circumstances push, they push back. There's no plan. And there's no stopping.

"I am so crap. How can you stand being with me? Don't answer that or I will crash this thing with both of us on it, swear to god, are you ready?"
Yes. No. Didn't matter.
I reached both arms around Meili's waist as we zoomed down the hill.
About the Author
---
Andrew Simonet is a choreographer and writer in Philadelphia. His first novel, Wilder, published in 2018. He co-directed Headlong Dance Theater for twenty years and founded Artists U, an incubator for helping artists make sustainable lives. He lives in West Philadelphia with his wife, Elizabeth, and their two sons, Jesse Tiger and Nico Wolf.
Praise For…
---
"Written with sparkling humor and cleverness, this book grabs the reader and does not let go, even after it ends. This emotionally charged title is a must-purchase." —VOYA, starred review

"Simonet's plotting is superb, and he sharply writes two unique characters, whose sparring will be as exciting to readers as it is to Jason and Meili. A fresh story, boldly told." —Booklist, starred review

"Simonet holds his cards very close to the vest throughout the narrative, creating Jason as a credible and sympathetic victim of some pretty rough circumstances as well as a righteous defender of endangered women. [A] suspenseful read a psychologically haunting finish." —The Bulletin of the Center for Children's Books

"Instead of delivering a clear-cut moral and tidy resolution, debut author Simonet leaves readers to decide whether Jason's actions are justified and whether he is a criminal, a hero, or a victim." —Publishers Weekly

"A page-turning, mind-twisting adventure that illuminates the complexity of male violence— Jason's story gripped me by the lapels and refused to let me look away." —Dashka Slater, award-winning author of The 57 Bus

"Wilder is unique, innovative, edgy. A powerful mixture of funny and serious that will jolt you into a deeper understanding of the relentless longing for love that we carry within us." —Francisco Stork, award-winning author of Marcelo in the Real World