Laughing at My Nightmare (Paperback)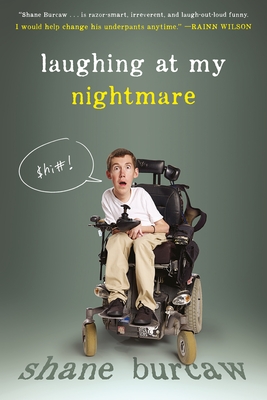 $10.99

Usually arrives at our store in 5-14 business days.
Description
---
With acerbic wit and a hilarious voice, Shane Burcaw's Laughing at My Nightmare describes the challenges he faces as a twenty-one-year-old with spinal muscular atrophy. From awkward handshakes to having a girlfriend and everything in between, Shane handles his situation with humor and a "you-only-live-once" perspective on life. While he does talk about everyday issues that are relatable to teens, he also offers an eye-opening perspective on what it is like to have a life threatening disease.
About the Author
---
Shane Burcaw is a twenty-something young adult with Spinal Muscular Atrophy and a wicked sense of humor. He lives in Minneapolis, Minnesota, where he runs a blog and nonprofit organization dedicated to providing medical equipment to people with muscular dystrophy diseases. He and his girlfriend are the duo behind Squirmy and Grubs, a YouTube channel that offers a behind the scenes look at their interabled relationship.
Praise For…
---
"Burcaw has spent most of his life in a wheelchair with progressively debilitating spinal muscular atrophy, but instead of soberly presenting the ups and downs of a potentially bleak existence, he pens an uplifting, laugh-out-loud memoir that calls out the absurdity of his circumstances, and the joy he finds in the everyday." —Booklist

"*Laughing at My Nightmare is an unforgettable memoir." —VOYA, STARRED REVIEW

"With snark, swagger and self-deprecation, Burcaw explains from the beginning how SMA has shaped his mission . . . With reflections camouflaged in wisecracks, Burcaw demonstrates that a little humor goes a long way." —Kirkus Reviews

"Burcaw's narrative will resonate with readers, who will laugh along with the funny stories, cringe at the awkward moments, and tear up at the emotionally charged parts. A poignant story that provides a fresh perspective on life." —School Library Journal

"*It's engaging, inspirational, and eye-opening." —Publishers Weekly, STARRED REVIEW