Joey Pigza Loses Control (Paperback)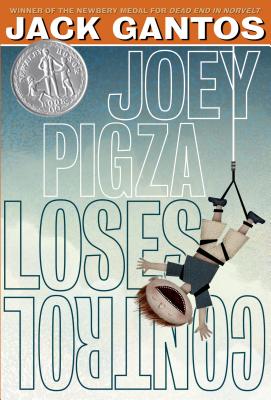 Other Books in Series
This is book number 2 in the Joey Pigza series.
Description
---
The sequel to Joey Pigza Swallowed the Key, a National Book Award Finalist

When Joey Pigza meets his dad for the first time in years, he meets a grown-up version of his old out-of-control self. Carter Pigza is as wired as Joey used to be -- before his stint in special ed, and before he got his new meds.

Joey's mom reluctantly agrees that he can stay with his dad for a summer visit, which sends Joey racing with sky-high hopes that he and Carter can finally get to know each other. But as the weeks whirl by, Carter has bigger plans in mind. He decides that just as he has pulled himself up by his own bootstraps, Joey can do the same and become as normal as any kid, without the help of a doctor's prescription. Carter believes Joey can do it and Joey wants to believe him more than anything in the world.

Here is the continuation of Jack Gantos' acclaimed Joey Pigza story, affirming not only that Joey Pigza is a true original but that it runs in the family. This title has Common Core connections.

Joey Pigza Loses Control is a 2000 New York Times Book Review Notable Children's Book of the Year and a 2001 Newbery Honor Book.
About the Author
---
Jack Gantos has written books for people of all ages, from picture books and middle-grade fiction to novels for young adults and adults. His works include Hole in My Life, a memoir that won the Michael L. Printz and Robert F. Sibert Honors, Joey Pigza Swallowed the Key, a National Book Award Finalist, and Joey Pigza Loses Control, a Newbery Honor book. Jack was born in Mount Pleasant, Pennsylvania, and when he was seven, his family moved to Barbados. He attended British schools, where there was much emphasis on reading and writing, and teachers made learning a lot of fun. When the family moved to south Florida, he found his new classmates uninterested in their studies, and his teachers spent most of their time disciplining students. Jack retreated to an abandoned bookmobile (three flat tires and empty of books) parked out behind the sandy ball field, and read for most of the day. The seeds for Jack's writing career were planted in sixth grade, when he read his sister's diary and decided he could write better than she could. He begged his mother for a diary and began to collect anecdotes he overheard at school, mostly from standing outside the teachers' lounge and listening to their lunchtime conversations. Later, he incorporated many of these anecdotes into stories.  While in college, he and an illustrator friend, Nicole Rubel, began working on picture books. After a series of well-deserved rejections, they published their first book, Rotten Ralph, in 1976. It was a success and the beginning of Jack's career as a professional writer. Jack continued to write children's books and began to teach courses in children's book writing and children's literature. He developed the master's degree program in children's book writing at Emerson College and the Vermont College M.F.A. program for children's book writers. He now devotes his time to writing books and educational speaking. He lives with his family in Boston, Massachusetts.
Praise For…
---
"* Like its predecessor, this high-voltage, honest novel mixes humor, pain, fear and courage with deceptive ease. Struggling to please everyone even as he sees himself hurtling toward disaster, Joey emerges as a sympathetic hero, and his heart of gold never loses its shine." —Publishers Weekly, starred review