One Way Out: The Inside History of the Allman Brothers Band (Hardcover)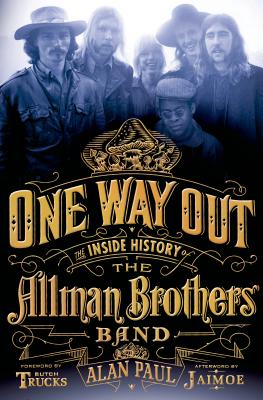 $31.49
Email or call for price.
Description
---
A New York Times Best seller!
One Way Out is the powerful biography of The Allman Brothers Band, an oral history written with the band's participation and filled with original, never-before-published interviews as well as personal letters and correspondence. This is the most in-depth look at a legendary American rock band that has meant so much to so many for so long.
For twenty-five years, Alan Paul has covered and written about The Allman Brothers Band, conducting hundreds of interviews, riding the buses with them, attending rehearsals and countless shows. He has interviewed every living band member for this book as well as managers, roadies, and contemporaries, including: Gregg Allman, Dickey Betts, Jaimoe, Butch Trucks, Warren Haynes, Derek Trucks, Oteil Burbridge, the late Allen Woody, Jimmy Herring, Eric Clapton, Bob Weir, and many others.
Tracking the band's career from their 1969 formation to today, One Way Out is filled with musical and cultural insights, riveting tales of sometimes violent personality conflicts and betrayals, drug and alcohol use, murder allegations and exoneration, tragic early deaths, road stories, and much more, including the most in-depth look at the acrimonious 2000 parting with founding guitarist Dickey Betts and behind-the-scenes information on the recording of At Fillmore East, Layla, Eat A Peach, Brothers and Sisters, and other classic albums.
About the Author
---
ALAN PAUL is a senior writer for Guitar World magazine and has interviewed the members of the Allman Brothers Band hundreds of times. No one has written more frequently about the band, and his work has earned the praise of Gregg Allman, Warren Haynes, Butch Trucks, and other band members.
He is the author of Big in China: My Unlikely Adventures Raising a Family, Playing the Blues, and Becoming a Star in Beijing (Harper), which is currently being developed as a film by Ivan Reitman's Montecito Pictures.
Big in China chronicles Paul's three and a half years living in Beijing with his American family. There, he formed the blues band Woodie Alan with three Chinese musicians. While in China, Paul also wrote "The Expat Life" column for the Wall Street Journal Online, and was named Online Columnist of the Year by the National Society of Newspaper columnists.
Praise For…
---
"This pot-stirring oral history reads like a backstory of how musical lightning comes to be. All of the surviving band members get to have their say." —Rolling Stone
"Alan has a way with narrative that just draws you in without using the single-level storyline used by other writers who have attempted telling the Allman Brothers Band's story. He gets right to the hows and whys that give his narrative real substance. Enjoy and become enlightened." —Butch Trucks, the Allman Brothers Band (From the Foreword)
"No journalist knows the ins and outs of the Allman Brothers Band better than Alan Paul." —Warren Haynes, the Allman Brothers Band
"I learned so much reading One Way Out. If you want to know the real deal, read Alan Paul." —Oteil Burbridge, the Allman Brothers Band
"Allman Brothers, unvarnished . . . [Alan Paul]'s vast trove of interviews allows the band to tell its own story." —Atlanta Journal Constitution
"Alan Paul is one of America's foremost experts on the Allman Brothers Band. For the past twenty years, he has written informative, comprehensive articles on the band, and he truly understands the essence of their significance. It's great to see him release this chronicle." —E.J. Devokaitis, Curator / Archivist, Allman Brothers Band Museum at the Big House
"Alan Paul's One Way Out is a brilliantly detailed all-access pass to the Allman Brothers Band. Using his numerous personal interviews with the band members themselves--both past and present--as well as an almost endless entourage of friends, family members, roadies, managers, promoters, booking agents, record label executives, and fellow musicians, Alan Paul has successfully created the definitive ABB biography." —Randy Poe, author of Skydog: The Duane Allman Story
"One Way Out is perhaps the most in-depth look at one of America's most beloved, but thoroughly dysfunctional ensembles. Engrossing reading . . . Alan Paul has written about the Allmans for the last 25 years, and his depth of knowledge shows. The stories are salty, unfiltered, and straight from the horse's mouth. The word 'definitive' gets tossed around so often it has lost some of its meaning, but this 400-page journey into the heart of rock and roll darkness deserves the accolade." —Guitar World Magazine
"No matter what you think you know about the Allman Brothers Band, One Way Out is bound to be revelatory on many levels . . . This is essential reading that strips away the myth to expose all the moving parts in vivid detail." —Seattle PI
"Music writer Paul catches up with the legendary band in this entertaining, compulsively readable oral history of the Allman Brothers. Duane's ghost haunts the book." —Publishers Weekly
"Perhaps no music journalist has written as extensively about the Allman Brothers Band as Paul, who has tracked the rock group's career for 25 years. And his deep familiarity with the band and its music shows everywhere in this fluid account. Augmented by photos and fascinating sidebars, this candid oral history has appeal beyond the Allman Brothers Band's loyal fan base." —Booklist, starred review
"With this fine work, Alan Paul accomplishes the admirable feat of delving the depths of the Allman Brothers, a great aggregation of talent and artistry. He puts together the sweeping picture of how these gifted individuals with their special Southern stylishness created something utterly unique to the world. Rock on." —Billy F Gibbons, ZZ Top
"Open this book to any page, start reading, and I dare you to stop. Alan Paul captures all the momentum and energy of the Allman Brothers' long, wild ride, which continues at a breakneck pace. One Way Out? There's no way out of this rollicking narrative until, with regret, you reach the end." —Anthony DeCurtis, Contributing Editor, Rolling Stone
"I was struck by the similarities between the Doors and Allman Brothers, especially in our origins--the Eureka moment of certainty amidst a jam. Alan lets the people who were actually there tell the story, and I couldn't put it down. Great read!" —Robby Krieger, The Doors
"Like a master bandleader, Alan Paul orchestrates a bluesy, jazzy, rocking chorale of voices telling the tale of a brotherhood under stress and a band who got what they hardly realized they wanted, lost what they had and fought a decades-long struggle to get it back." —Charles Shaar Murray, author of Crosstown Traffic: Jimi Hendrix and Post-War Pop and Boogie Man: The Adventures of John Lee Hooker
"Paul's One Way Out is a fresh, intelligently arranged, and satisfyingly complete telling of the lengthy (and unlikely) history of the group that almost singlehandedly brought rock up to a level of jazz-like sophistication and virtuosity, introducing it as a medium worthy of the soloist's art. Oral histories can be tricky things: either penetrating, delivering information and backstories that get to the heart of how timeless music was made. Or too often, they lie flat on the page, a random retelling of repeated facts and reheated yarns. I'm happy to say that Paul's is in that first category." —Ashley Kahn, author of A Love Supreme: The Story of John Coltrane's Signature Album
"Though enough tomes have been published about the Allmans' troubled history to deforest half of Brazil, only Paul's book gets all the principal figures assessing and confessing. However open and moving Gregg Allman's autobio from 2012 may have been, Paul's book gives a much fuller picture of the dynamics that drive every member -- including why guitarist Dickey Betts remains so vexing." —New York Daily News
"Paul's book presents the most complete and detailed telling of the band's still-unfolding saga to date. Elizabeth Reed, Melissa and Jessica would also probably agree." —Houston Press