Aunt Ruth: The Queen of English and Her Reign of Error (Paperback)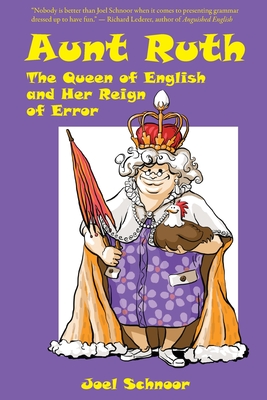 $18.99

Usually arrives at our store in 5-14 business days.
Description
---
Let's face it. English grammar is not exactly a topic that grips the imaginations of today's youth, nor is it the root of titillating conversation at the office water cooler. Sure, we may snicker when Susan accidentally splits her infinitive or shed a tear of refrained laughter when Bob dangles a participle, but in general we modern day Americans work as hard as we can at avoiding using lie / lay / lain or lay / laid / laid. Why is grammar so painful for us?
This book is the panacea for Grammar Angst. Each of the (45) chapters is a separate, stand-alone adventure involving the indomitable Aunt Ruth, her sidekick (and sometimes nauseating) nephew, and a cast of other memorable characters who pop-in now and then to join in the fun. Each story addresses a specific grammar or usage point, and the stories can be read in any order. In the back of the book is a section on common problems, where each topic discussed in the earlier chapters is further explored.
Audiences of all ages will enjoy these stories. Young ones will enjoy hearing about the various messes that Aunt Ruth finds herself in; older ones will enjoy reading the dialogues between nephew and aunt; and all ages will absorb a bit of grammar while being entertained by the stories.
Aunt Ruth: The Queen ... comprises a multitude of grammatical points, tips, and problem areas including: Is it she likes X more than me, or is it she likes X more than I; what's the difference between onto and on to; what is a gerund and how is it used; is it have gone or have went; what is a comma splice; what is sentence fusion; what are the rules for using myself, himself, and herself; when is it bad versus badly; when is it who, whom, whoever, or whomever; how to use commas, semi-colons, and colons; how to conjugate irregular verbs; what are comparatives and superlatives ... and the list continues.
The book is so family friendly that it could be read in its entirety from a church pulpit without raising any eyebrows, other than those (of course) of people in the congregation wondering why today's sermon topic is about double possessives.
While it is true that any grammar police person worth his or her salt will want this book as a reference, the book does not confront the reader in any sort of derogatory way. Though the nephew often tries hard to be the grammar police in correcting Aunt Ruth's errant ways, he does sometimes find himself conceding that, indeed, times have changed. When the nephew becomes too obstreperous for even Aunt Ruth to handle, she puts him back in his place with a stout, "GET OVER IT," and a whack in the head with her handy umbrella.
This book follows the approach of its predecessor, I Laid an Egg on Aunt Ruth's Head. In her review of I Laid ... in the Raleigh News and Observer, book columnist Pam Nelson wrote: " Schnoor] is a kind, considerate, funny teacher who wants only for his students to improve, not to feel bad because of all they don't know." Aunt Ruth: The Queen ... follows the same philosophy.
Esteemed writer, linguist, radio and newspaper columnist Richard Lederer, in his review of Aunt Ruth: The Queen ..., wrote, "Nobody is better than Joel Schnoor when it comes to presenting grammar dressed up to have fun."